Note: If you want to sign up for eCom (E-Series), contact your account manager.
Once your account manager has added eCom (E-Series) to your account, you'll need to complete your registration in Retail POS. This ensures that Lightspeed associates your eCom (E-Series) account with the correct Retail POS location and business information.

To get started, sign in to your Retail POS. Click the drop-down in the upper left corner and select eCom (E-Series) to go to the registration page.
Follow these steps to complete your eCom (E-Series) registration:
On the Set up Lightspeed Retail POS integration page, select a location, register, and employee to assign to your online orders and click Next.

Important: The register and employee can be changed later. Your location cannot be changed.

On the Get a head start on your store setup page, enter your store name. This can be changed later.

Select your country and your currency, then click Next.

On the Choose where you'll be running your store page, let us know if you have a website. Click on the Do you already have a website? drop-down and select Yes or No.
If you select Yes, you'll be prompted to select your website platform from the What website platform do you use? drop-down.

If you don't have a website, enter a domain name. We recommend choosing something quick and easy to remember because this domain name can be changed later.


Click the Finish & Proceed to Dashboard button.
Once you've completed your eCom (E-Series) registration, you'll be redirected to your eCom dashboard, where you can follow the tips to start designing and customizing your online store.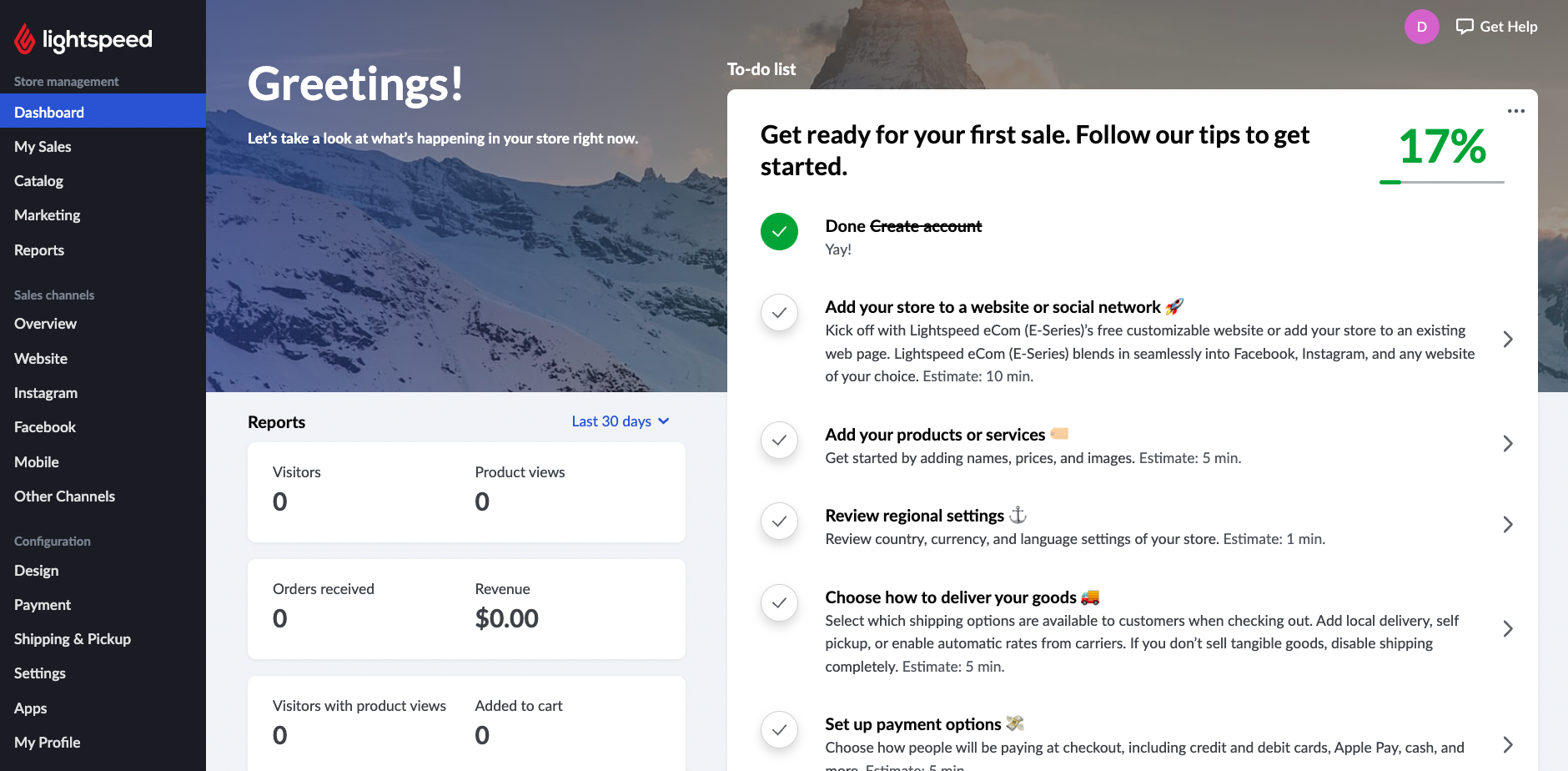 All products will automatically sync from Retail POS to eCom (E-Series) but will appear in a disabled state. To start selling online, enable the products on the Catalog page in eCom (E-Series). For more information on syncing products with eCom (E-Series), see Syncing products between Retail POS (R-Series) and eCom (E-Series).
What's next?
Getting support for eCom (E-Series)
Managing employee access for Retail POS (R-Series) and eCom (E-Series)