Lightspeed Retail POS (R-Series) web
New: The login page has a new and improved design: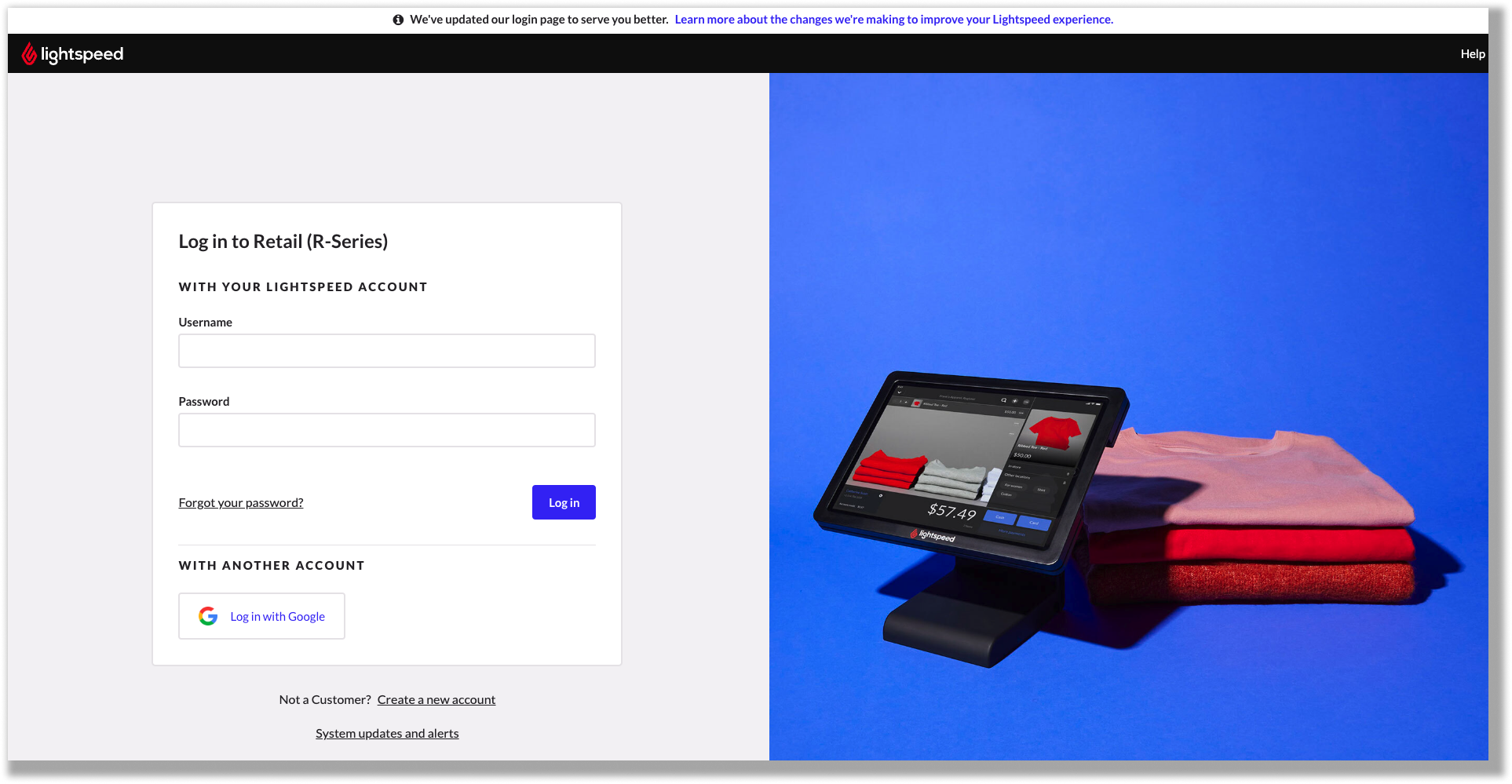 New: Merchants tracking serial numbers can now receive them directly in a purchase order by activating a modal during the receiving process.
New: Merchants receiving serial numbers on a purchase order can now enable/disable a permission to enforce the capture of serial numbers before adding the items to inventory.
Improved: There is now a summary field for QTY sold in various basic reports.
Improved: There is now a Subtotal with discounts field to the aggregate Locations basic report.
Improved: The UPC-A and EAN-13 barcodes have been re-enabled on small labels.
Improved: Gift card selling and redemption flows have been updated to account for checkdigits on UPC/EAN formatted cards. Both records are now presented (when they exist) with and without a valid checkdigit, should the code entered be in UPC/EAN format. This highlights the customer attached to the card, or if no customer is attached, the user is prompted for input to select the correct card.
Resolved: Labor items are now being discounted on price/discount rules when enabled in general settings.
Resolved: Merchants are no longer redirected to the login page after entering their PIN.
Resolved: Merchants are no longer asked to log in several times before being allowed into Retail POS.
Resolved: The sort feature on the QOH and Price columns has been re-enabled on all accounts and the performance has been greatly improved for the item search listing. Note: Users with limited shop access will receive an error when filtering for all shops and trying to sort the QOH aggregate field. This is however not the case for users with access to all locations.
Resolved: 17+ digit SKUs no longer round down when navigating to the previous page by using the Back button.
Resolved: The gift card recharge flow now works as expected. Previously, it would show as a purchase until after the transaction was finalized.
---
Lightspeed Analytics
New: Lightspeed Analytics is happy to announce the release of Lightspeed Analytics Enterprise. The new tier of Analytics enables large, complex businesses with multiple POS accounts to access actionable insights across their entire organization through a single Analytics account.
Lightspeed Analytics Enterprise features exclusive access to full custom report building with support from Pro Services. Our experts will help you build and save custom reports that are tailored to your business needs:
Fully customize your reporting needs with our team of experts
Let us manage the back end and connect your accounts to Analytics Enterprise
White glove support and à la carte services to match your needs
---
Want to see the release notes for other Lightspeed products?
Please visit the Release Notes and Changelogs page on our Lightspeed website.