Lightspeed Analytics Enterprise is a reduced collection of Analytics reports designed to read and report on multiple R-Series accounts. Previously, customers could only access Analytics with a single Retail POS account. With multi-account analytics, customers who have several locations and POS accounts will have integrated data between all locations, rather than just one account.
Customers have multiple retail subscriptions for various reasons:
Multiple physical locations with different tax implications

Different owners for different locations

Franchises (mid-market high Monthly Recurring Revenue (MRR) customers)

Multi-currency needs
Benefits of Analytics
Enterprise
Enterprise account holders, such as corporate HQ franchisors or users that need access to other data, now have the ability to view data from multiple retail accounts in one single analytics account. You can view sales daily, weekly, or monthly by category across store locations. This can help you determine how well a store is doing, and what kind of customers are served, including services offered.
As an Enterprise customer, you are a super user and can add new users to access Enterprise. Users added to the enterprise receive an onboarding email. If the user has an existing account, it will simply state that they now have access to Enterprise. If the user does not have access to a basic analytics account, the e-mail will ask them to set up a password and they will only have access to the enterprise environment.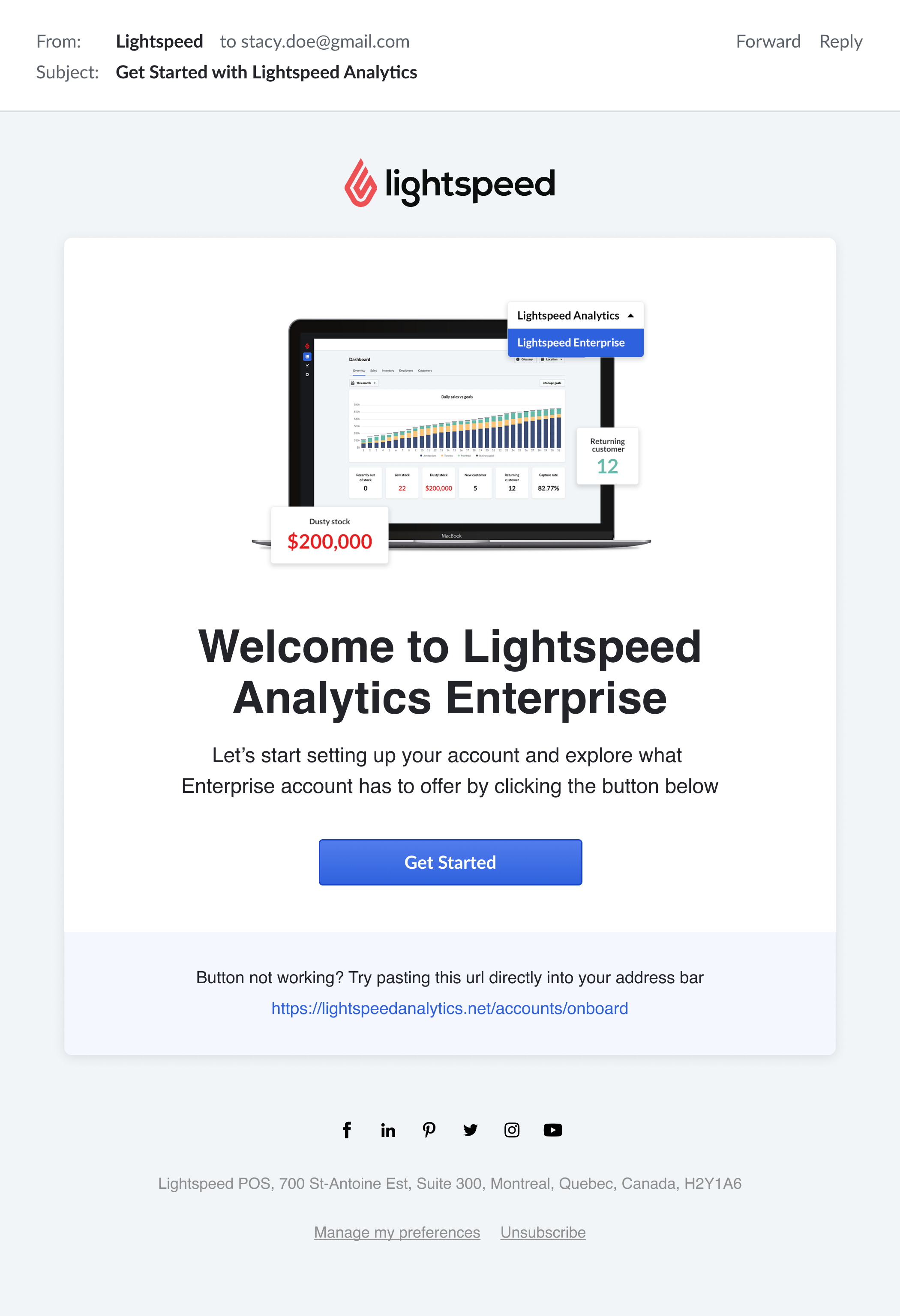 What are the differences between
Lightspeed Analytics
and Lightspeed
Analytics
Enterprise?
First of all, much of the two are quite similar, but here's a snapshot to compare the two:
Similarities
Dimensions

Measures

Calculations

Custom fields

Visualizations

Sync time

Saving custom reports

Creating custom reports

Suggesting report ideas

Creating, deleting, and modifying users

Downloading reports
Differences
Dashboards (not available with Enterprise)

Scheduling (coming soon)

Settings:

No subscriptions

No configuration

No goals

Data conventions
Data conventions
A key distinction between Analytics and Analytics Enterprise is your stores' data conventions. This refers to how you assign names and details to your data. This can include naming conventions of products, categorization of products, how your category trees are defined, and whether you are using the same "ID" fields to hold various codes.
Product naming
As an example, say that two of your R-Series accounts are selling the same small, blue baseball cap. If one of your stores lists the item as Baseball Cap - Blue - Small and a second one of your stores lists the item as Baseball Cap - Blu - SM, Analytics will not, by default, understand that these should be considered the same product. Analytics can prepare reports that identify variance around products within companies, but the more closely you ensure that all products that are the same have the same descriptions, IDs, etc., this will truly help you optimize the data that you are reading.
Product categories
As another example, say that you have the same baseball cap product in two different stores, but in one, it is in a category tree of Apparel > Headwear > Baseball Caps, and in your second store, it is in a category tree of Headwear > Caps. When you run Analytics reports by category, or by top-level category, you will get less-than-optimized results.
Similarly, there are ways that we can use Analytics Enterprise to identify instances of items in multiple categories that can then be adjusted in Lightspeed R-Series so that Analytics can provide you with optimal insight.
Learn more about Analytics Enterprise in the next article, Accessing Analytics Enterprise.
Need help?
Contact Support anytime: omni.strategic.support@lightspeedhq.com