Before you can start awarding points to your customers, you will need to establish how your customers will earn those points. The foundation of your point policy is the Pay + Earn section, which will determine how many points a customer can earn in a sale, but you can also set up bonus points for new loyalty members, VIP status multipliers, and more.
Pay + Earn
With this campaign enabled, Loyalty points are awarded in every transaction based on the total or subtotal for that transaction. Enter the number of points-per-dollar you want your customer to earn, select whether you want to assign points based on the subtotal or the total including tax and click Save.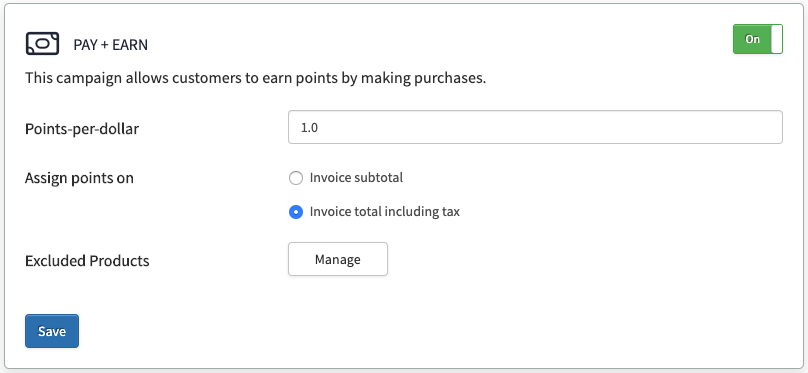 The default setting is 1 point-per-dollar, which is a good baseline to build on. You can then customize how quickly your customers earn rewards by adjusting how many points each reward is worth. Note that Lightspeed Loyalty does not support half-points and will always round down to the nearest whole number. For example, if you set a points-per-dollar value of 0.5 and your customer spends $3, they will earn 1 loyalty point, not 1.5 loyalty points.
If you have items in your inventory that you don't want to generate loyalty points when purchased, you can excluded products from your loyalty program. To do so:
Click Manage.
Click Add retail category, Add system ID, or Add retail tag, depending on which identifier you want to use to select the items to exclude.
Use the drop-down menus to select the desired category or tag to exclude, or enter the System ID of an item you'd like to exclude.
Repeat steps 2 and 3 in any combination until you've identified all of the items you want to exclude.

Click Save.
You can review the items that are currently excluded from your loyalty program by clicking Manage. Click Remove next to an identifier to reintegrate the associated item(s) into your loyalty program and have them once again generate loyalty points when purchased.
VIPs
With this campaign enabled, your customers will be able to earn their way to VIP status, which will activate a multiplier on how many points they earn per dollar spent.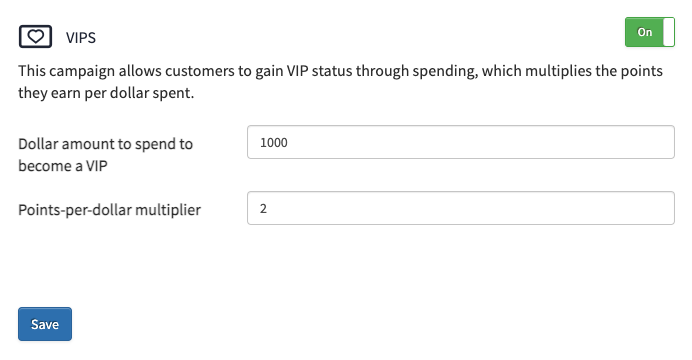 In the above example, once a customer has spent $1000 in this store (whether all at once or cumulatively over many transactions), they will qualify as a VIP and they will begin earning twice as many Loyalty points per dollar as they earned before. When a customer reaches this milestone, they are sent a text message informing them of that fact.
Note: When this campaign is enabled for the first time, any customers who already qualify to be VIPs will receive the same text message immediately.
Time Away
With this campaign enabled, customers who have not completed a purchase within a set amount of time will be awarded free points or a one-time reward.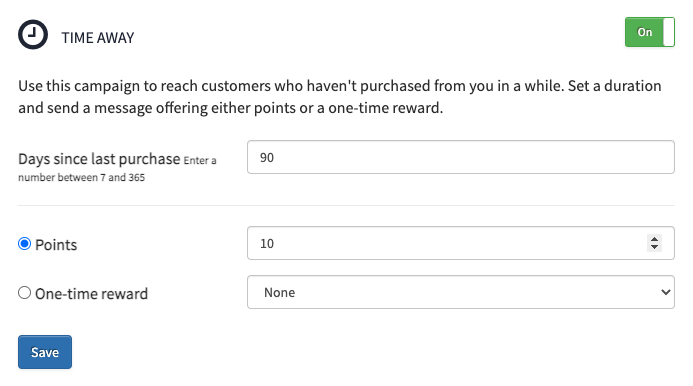 This campaign is only triggered after the number of days since last purchase has elapsed, so if a customer hasn't visited your business for several years, they will only receive the incentive once. However, if that customer returns, makes a purchase, and is then absent for a second duration of the set number of days, they will receive the reward a second time.
Sign Up
With this campaign enabled, your customers will receive free Loyalty points or a one-time reward when they sign up for your Loyalty program through their phone.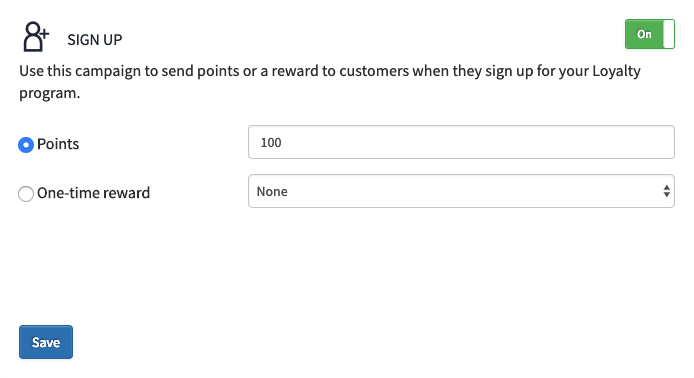 With this campaign you can entice your customers to sign up by providing them with an immediate discount on their purchase.
Sign Up Anniversary
With this campaign enabled, you'll be able to thank your customers for their participation in your Loyalty program with a one-time reward on the anniversary of the date they signed up.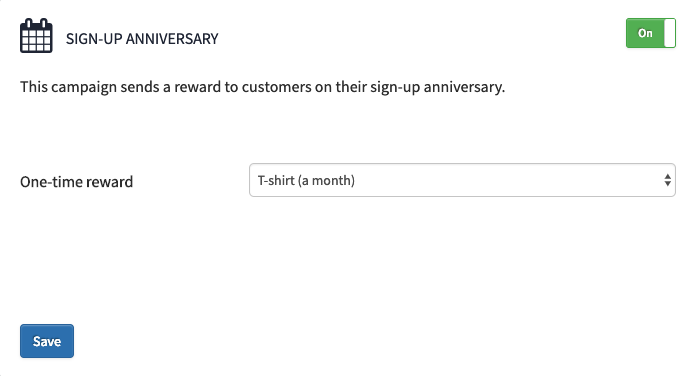 One-time rewards inherently have an expiration date associated with them, so your customers will have a limited time to redeem their anniversary rewards.
Birthday
With this campaign enabled, your customers will be awarded a one-time reward on their birthday.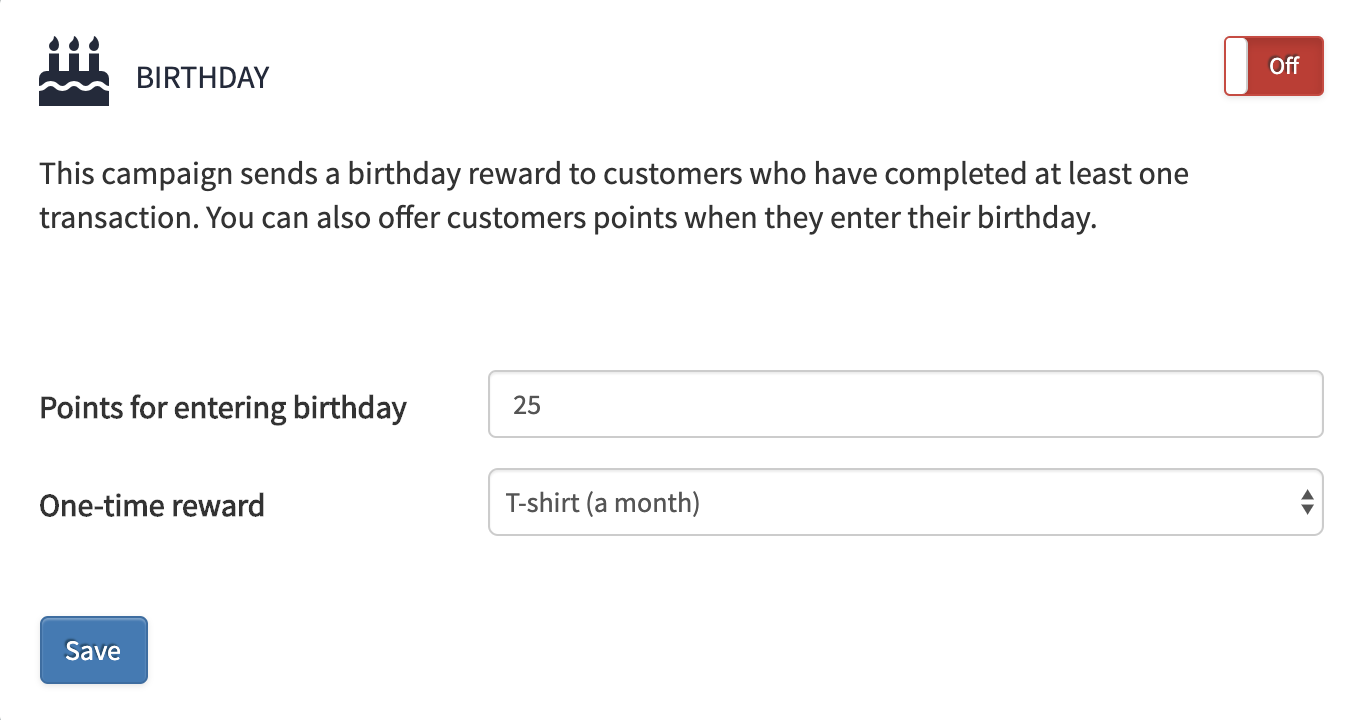 You can also award them free Loyalty points for entering their birthday into their customer profile.
Once you've customized your Loyalty points program by enabling and configuring the desired campaigns, your customers will begin earning Loyalty points and building a closer relationship with your business. In order for them to redeem those points, however, you'll want to make sure you've set up the rewards they can earn.