You'll configure and customize your Loyalty program throughout the Loyalty Manager, but if you need to review or change your login credentials or manage the connection between Lightspeed Loyalty and Lightspeed Retail, you'll do so under Settings.
Account settings
You can review your account summary and change your login password by navigating to Settings > Account settings. Under Account Summary, you'll see your Role, the name of your business (App name), and your Account Email, which is the email address and login credential of the account owner. These settings can be reviewed, but to change them you'll have to contact our Support team.
To change your password:
Enter your current password in the Old Password field.
Enter the desired New Password.
Confirm the new password.
Click Change Password.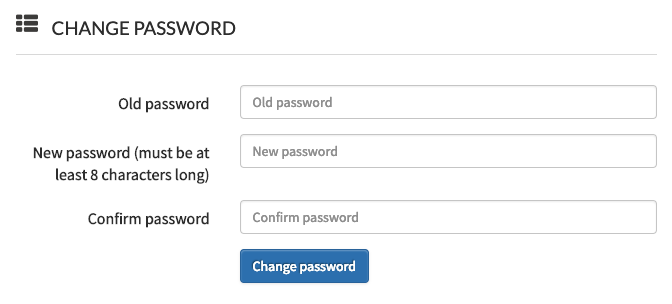 Lightspeed
Your first step in getting your Loyalty program up and running is to connect your Lightspeed Loyalty account to your Lightspeed Retail account. To do so:
Navigate to Settings > Lightspeed.
Click on Connect Lightspeed.

Enter your Lightspeed Retail login credentials.
Note: the credentials entered at this stage must be for a user with the Inventory - Product Create & Edit permission, otherwise the link between Lightspeed Retail and Lightspeed Loyalty cannot be established. You can check user permissions under Settings > Employee Roles. This permission is enabled by default.

Click Authorize Application to grant Lightspeed Loyalty the rights to access your Lightspeed Retail account.

You will then see confirmation that your Lightspeed account is connected.

Should you ever need to disconnect the accounts, you can return here and click Disconnect Lightspeed.