Beta
This integration is currently only available to certain merchants in the USA
You can browse items your connected brands offer using the product gallery or linesheets (catalogs). From here, products can be added to a purchase order and sent to your brands for dispatch.
Note: Not all brands offer the product gallery or linesheets. Depending on a brand's workflow, a sales representative may place orders on your behalf. If you do not have access to the product gallery or linesheets for a brand, contact your sales representative for confirmation.
Viewing a brands product gallery or linesheets (catalogs)
Product gallery
The product gallery is where you will find the brand's full collection of products available. Select Products from the main menu to access the product gallery.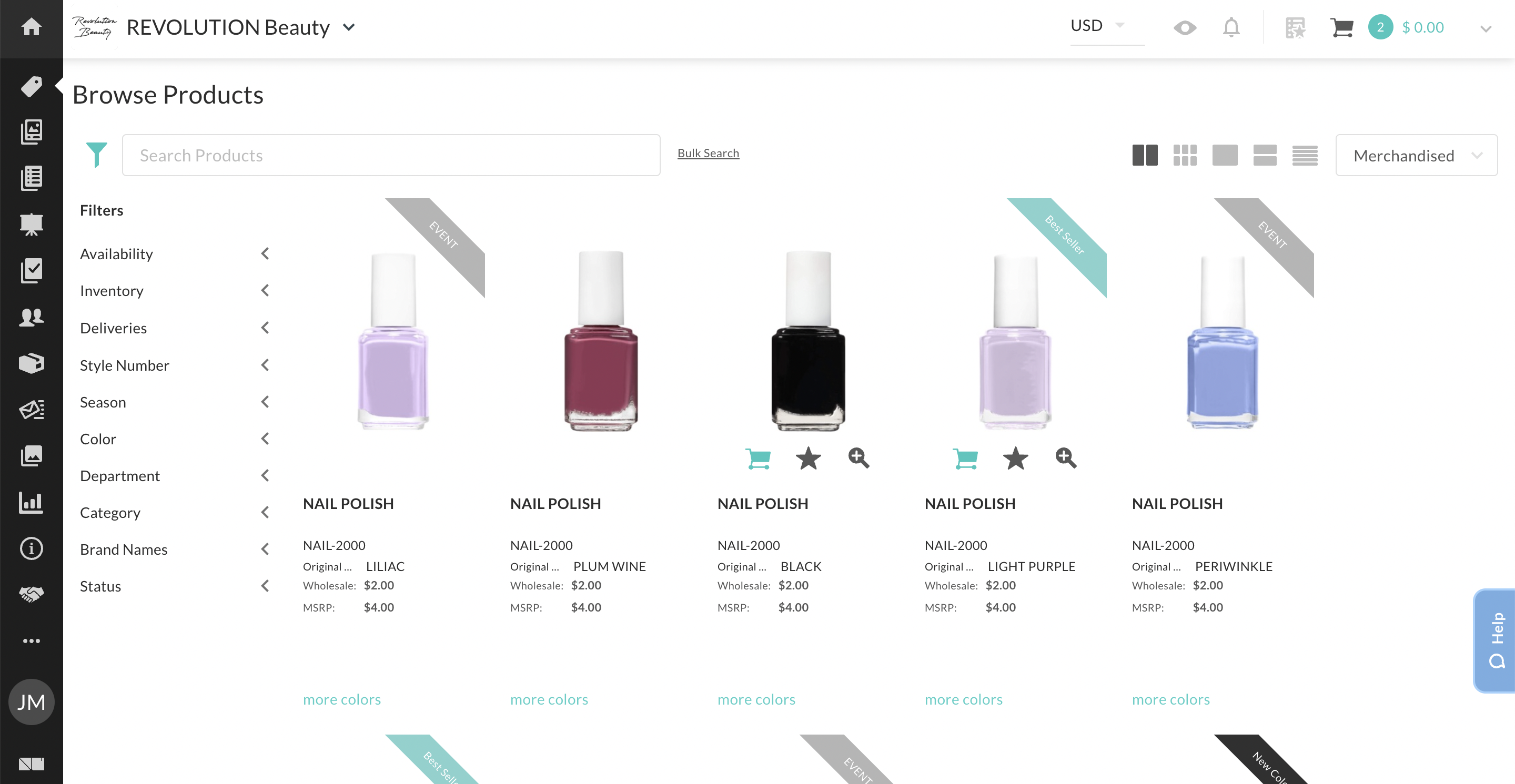 Linesheets (catalogs)
Linesheets are collections of products curated by the brand, typically by a theme such as Fall Collection, Best Sellers, or Back-to-school.
Note: While referred to as linesheets by default in NuORDER, some brands may choose to rename linesheets as catalogs.
Select Linesheets from the navigation menu to view linesheets offered by the brand.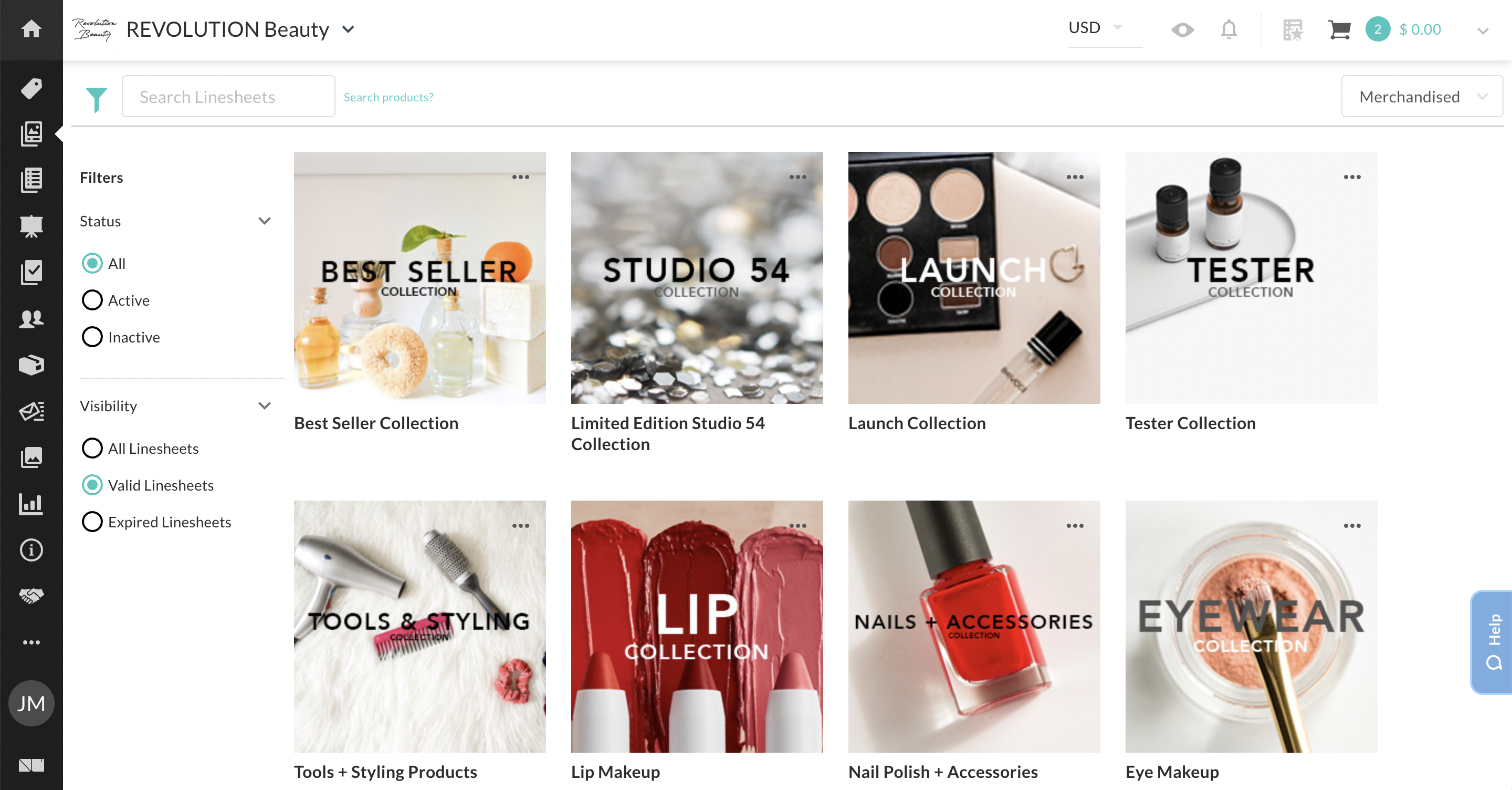 Use the sort drop-down menu in the upper-right corner, or the Search linesheets field in the upper-left corner to locate a linesheet.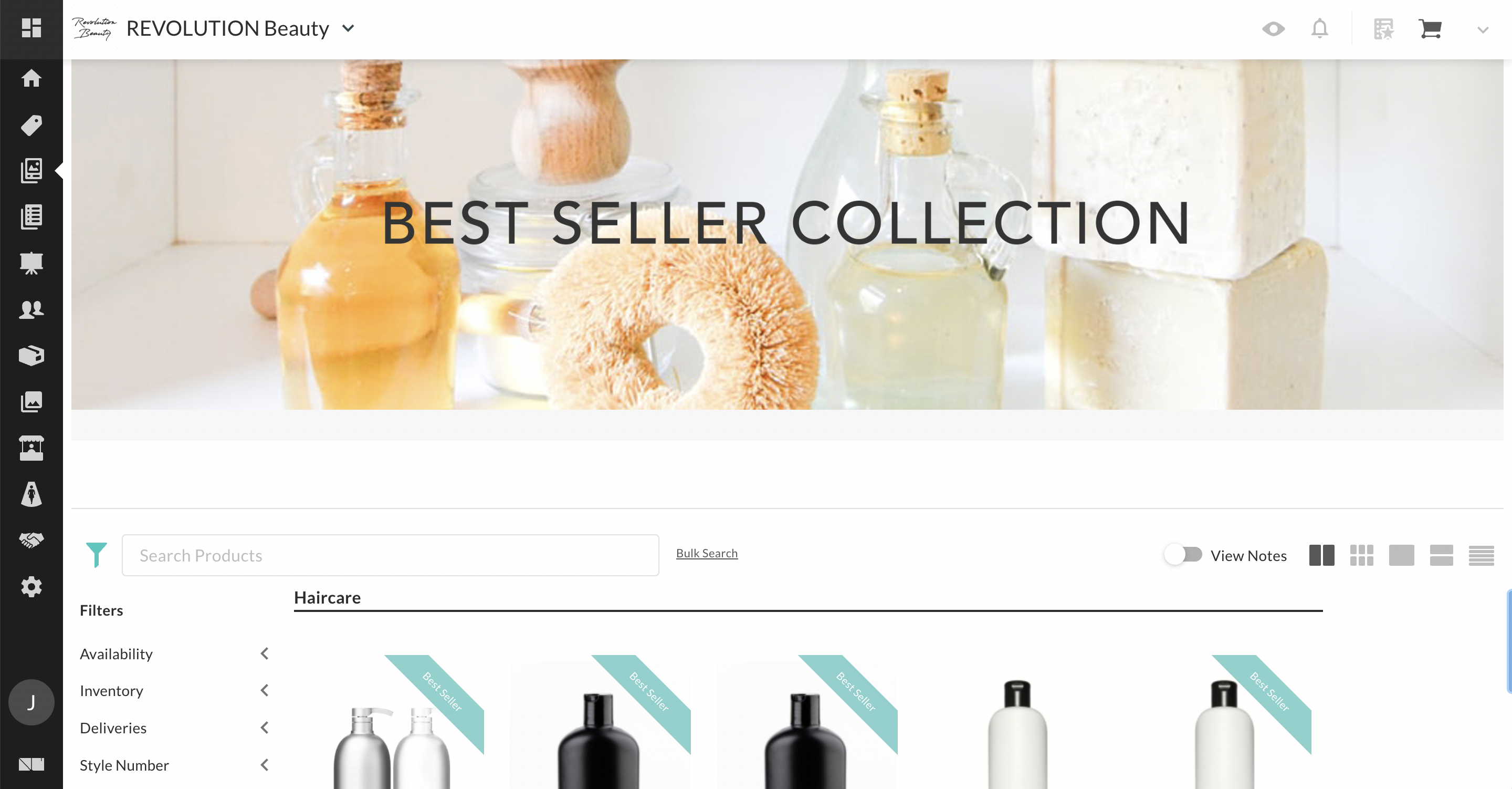 Browsing a brands products
Filters
Filters are set by brands to better help you find the products you're looking for. You can use filters to find products within a brand's range that meet your specific needs, such as by season, color, availability, department, or categories.
To filter, select a filter drop-down from the filter menu, and set the filters that you wish to apply to the product list.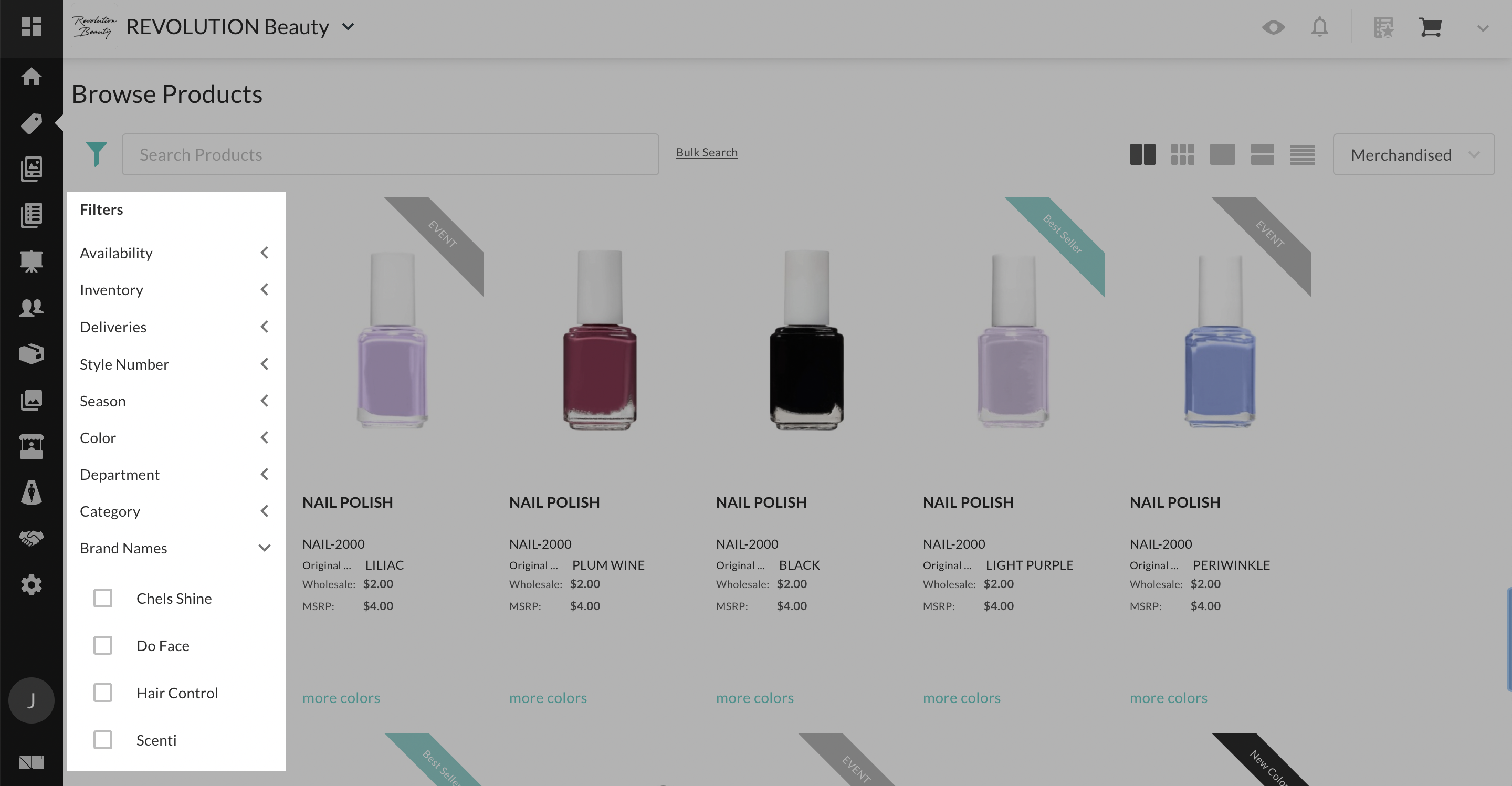 Search
You can use the Search products field to filter a brand's product list by specific keywords such as product name, style number, or category.
To search, type the keyword you wish to search for in the Search products field.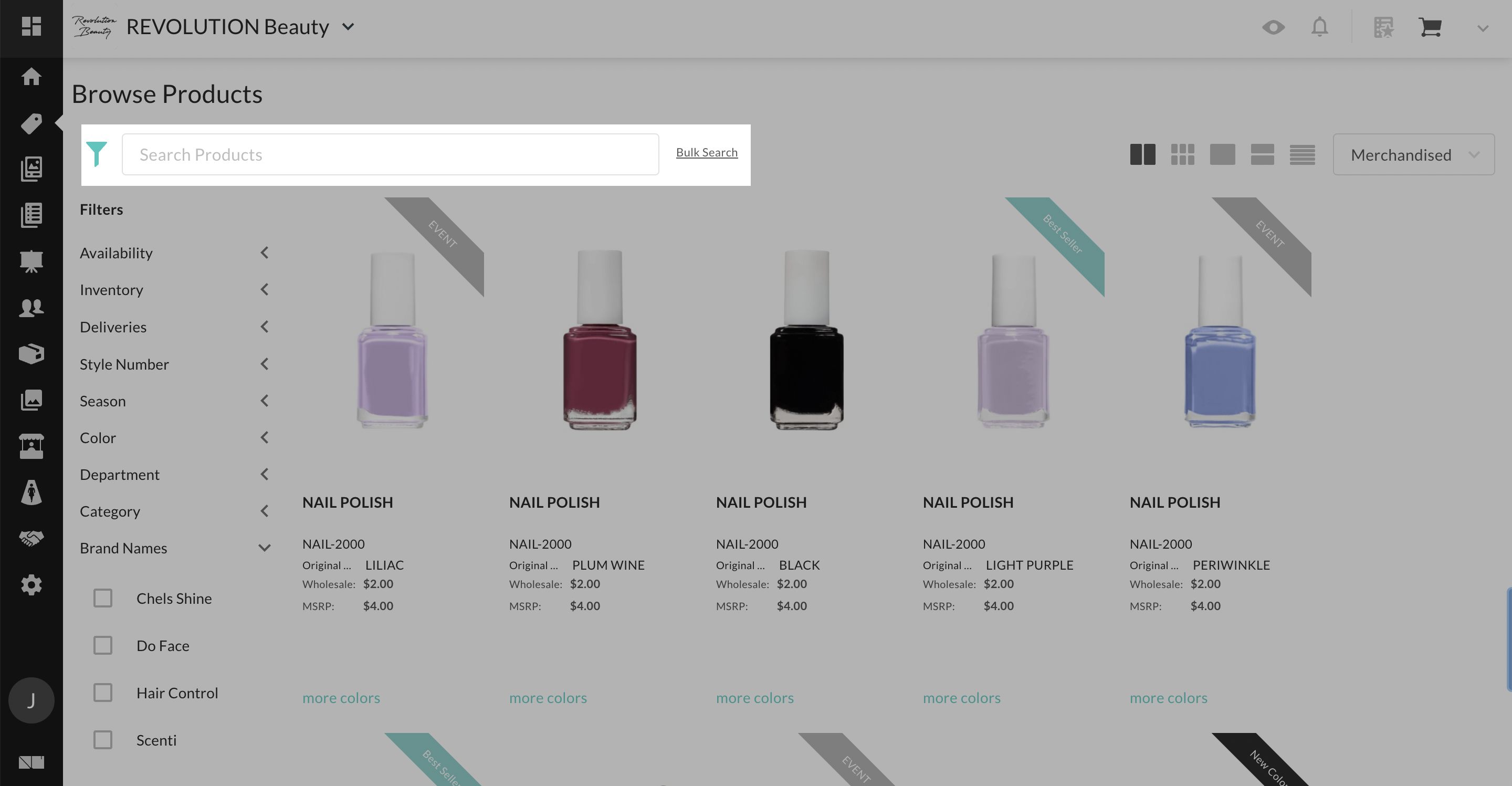 View options
The view options menu lets you select how you want to display products in the product list.

| | | |
| --- | --- | --- |
| Icon | View | Description |
| | Panel | The default option is panel view. Products are displayed as columns of images and key product details. |
| | Small tile | The small tile view is best suited for scrolling medium quantities of products at a time while still maintaining image visibility. Select small tile view to display a grid of small product images with condensed details. |
| | Large tile | The large tile view showcases product images in an expanded size, so you can see more detail without having to zoom in on each image. With this expanded size, large tile isn't available for mobile devices. |
| | Card | The card view offers a horizontal display of small product images with key details to the right of each image. |
| | Row | The row view is for scrolling large quantities of products at a time. Select the row view to view products in a single list. |
Product details
To view product details, select the product to open it. The provided details may vary, depending on the brand.
General Info: Item name, style number, department, division, wholesale price, MSRP price, season, category/subcategory, color code, color, and additional colors.
Availability: Availability/ship dates and order closing date (the deadline to get orders in for this product). If enabled in the brand's settings, you can only select your assigned warehouse(s) from the Availability filter.
Available Sizes: If the brand published stock levels, you'll see the quantity available per size.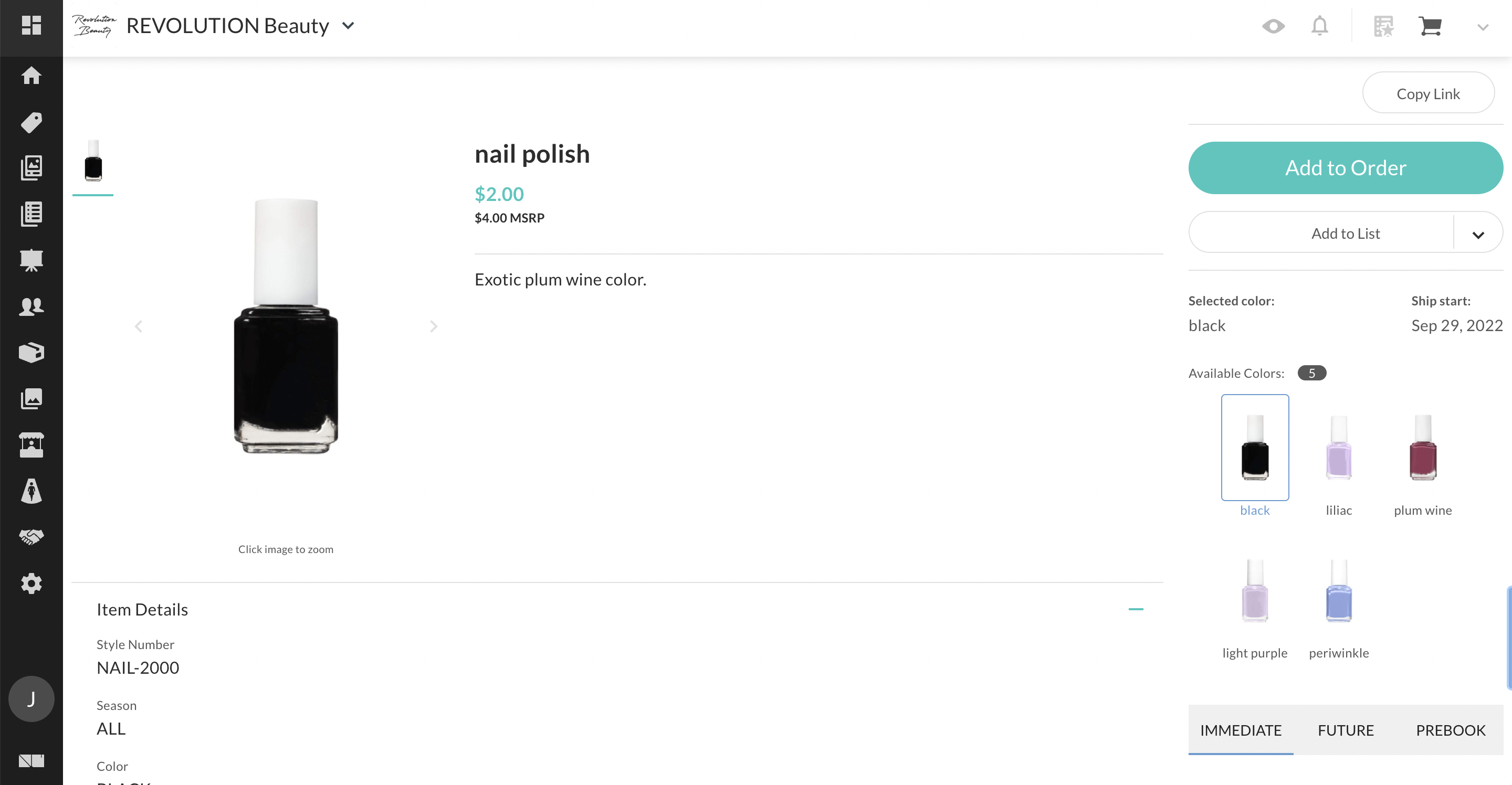 Product images
For additional product images, hover over a product thumbnail. This is the second image in the list of media stored for the product, excluding 3D images, 360 views, or videos. You can also see additional details and media by selecting the thumbnail.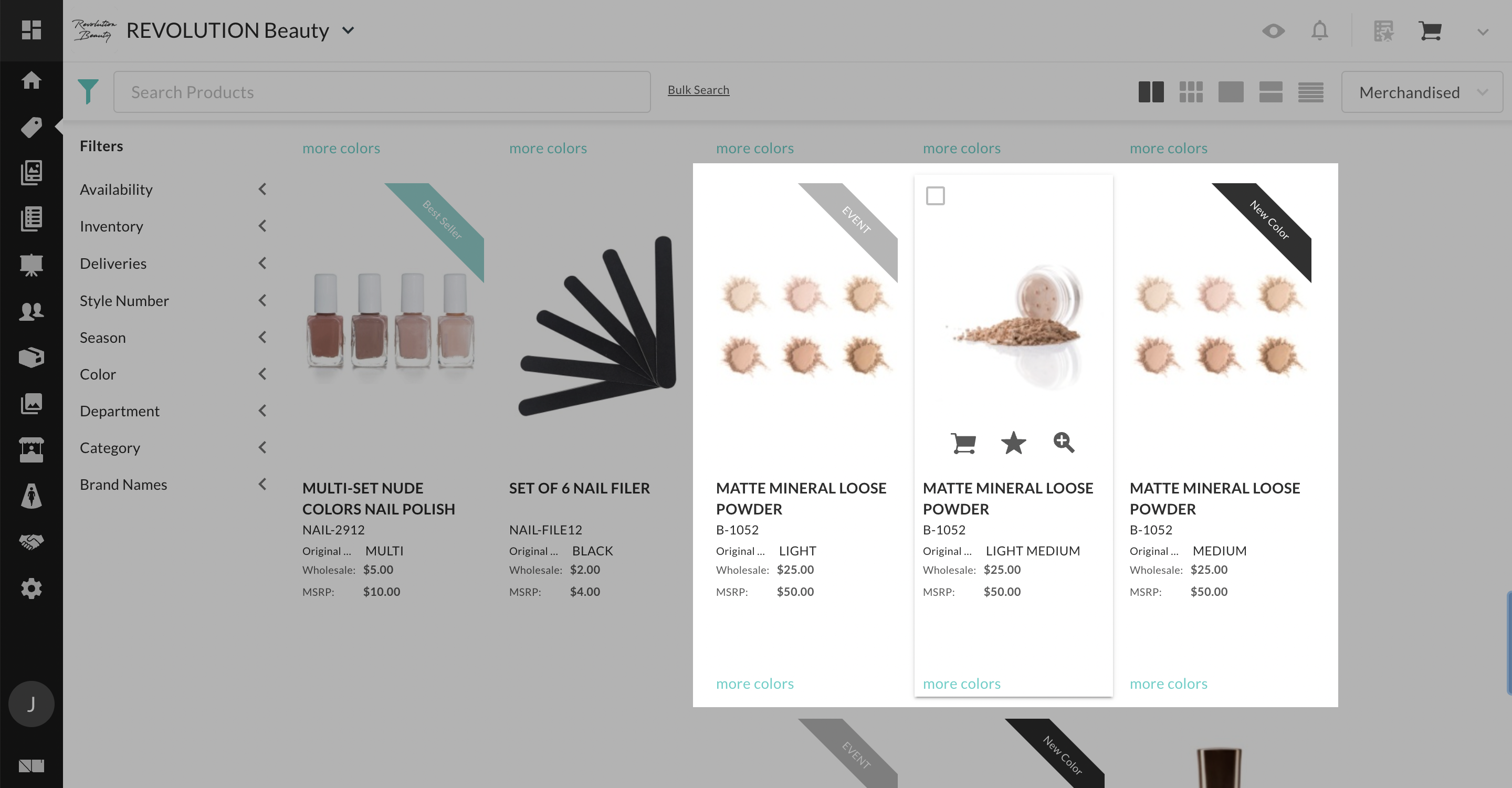 To zoom in on an image, select a product to display the product details. Then, hover your mouse over an image or select the image to fully expand it. For expanded images, use your mouse scroll wheel or trackpad zoom action to zoom in and out. You can also click and drag the image to see more.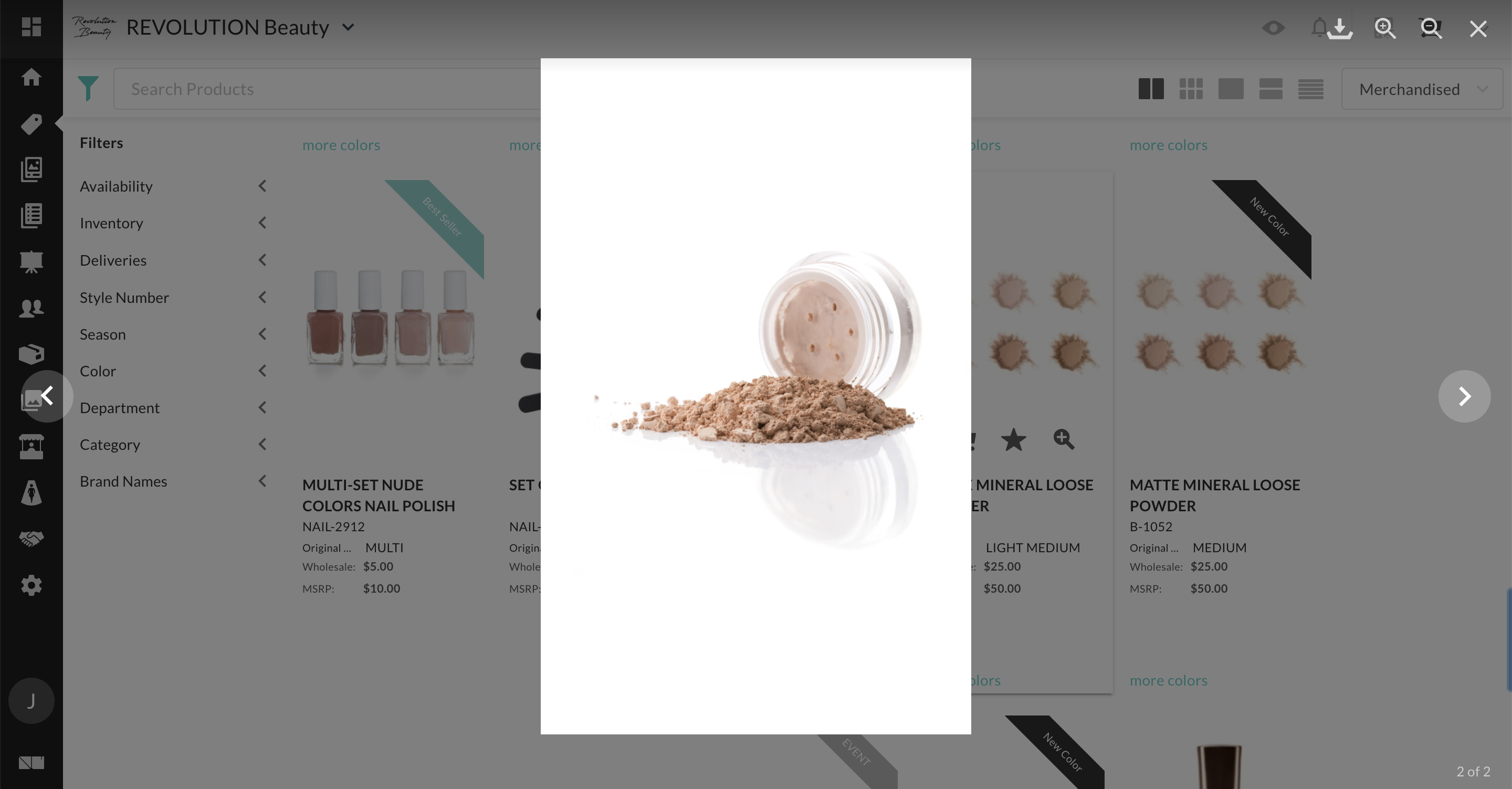 What's next?