Lightspeed Analytics Enterprise reports allow you to view details of your entire enterprise in one place. You can now compare data for your business, company by company/store by store, using one simple login! All Retail POS account IDs added to the Analytics account are included in the multi-shop store drop-down in the report field. You can filter results using this option to see store-based data.
Analytics includes many reports that are pre-built and ready to use. These reports are divided into three categories:
To access these reports, click the Reports icon on the left-side menu of the page when signed in to Analytics Enterprise. Here you'll find a single-source location for all your reporting needs.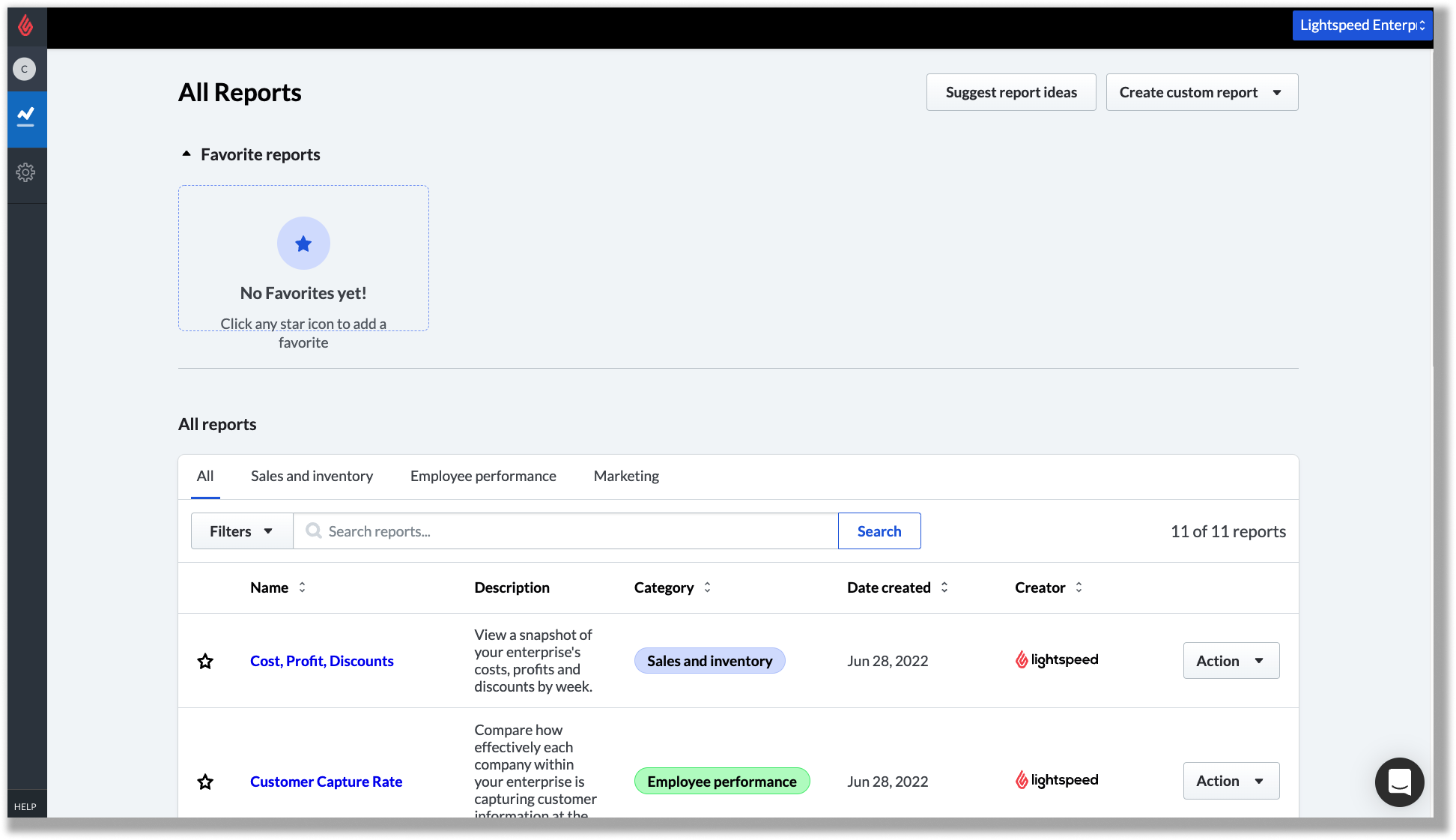 There is a detailed description of some reports by accessing the in-app documentation. To do so, click Help in the bottom left-hand corner of Analytics, followed by Documentation. There is also a link to Analytics help videos.
The documentation page contains information on several types of reports.
Sales and inventory
Cost, Profit, Discounts -

View a snapshot of your enterprise's costs, profits and discounts by week.




Dusty Inventory

- Monitor dusty inventory at each company within your enterprise


so that you can optimize your inventory strategy.

GMROI by Top Level Category - See how much profit you made on each dollar invested in inventory across your enterprise.

On order - View items that are currently on order through purchase order or transfer at each company within your enterprise.

Payment Methods - View

payment methods by company

Profit Year over Year

- See how your monthly enterprise profits are trending by month. You can also compare the percentage profit difference from previous years.
Recent sales - Get a quick overview of your enterprise's daily revenue.


Recently out of stock with sales

- Identify companies within your enterprise where products are selling well and need to be restocked.

Sales Year over Year

-Compare your monthly enterprise sales and sales trends to previous years.
Low Stock Alerts - Shows products that are low in stock and the number of days until they're estimated to sell out.


Marketing
Customer Lifetime Value - View average customer lifetime value by company to see which businesses are getting the most from repeat customers.
Employee performance
Customer Capture Rate - Compare how effectively each company within your enterprise is capturing customer information at the time of a sale.
Report features
Analytics Enterprise includes these report features:
Favorite reports: click the star beside any report to add it to your Favorite reports list for quick and easy access
Suggest report ideas: submit suggestions for a

business problem are you trying to solve, including what types of fields and filters you require

Create custom report: use the

drop-down menu to choose a base report type
All reports: using the dropdown menu, filter reports by category, type, or creator, or choose from specific tabs: All, Sales and inventory, Employee performance, and Marketing
Sort reports by name, category, date created, or creator
Learn more about Analytics Enterprise in the next article, Saving and downloading reports.
Need help?
Contact Support anytime: omni.strategic.support@lightspeedhq.com