The WisePad 3 is a small, portable, bluetooth card reader that empowers you to take card payments quickly and easily when paired with your iPad and Lightspeed Payments. It is capable of reading EMV-enabled cards, and contactless NFC card tapping.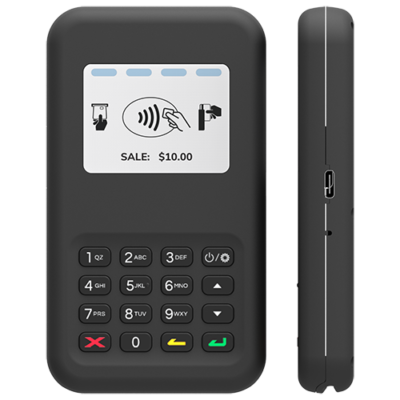 It is currently only available for Lightspeed Payments in Canada.
The hardware package you receive will contain:
The WisePad 3

A USB-C cable for charging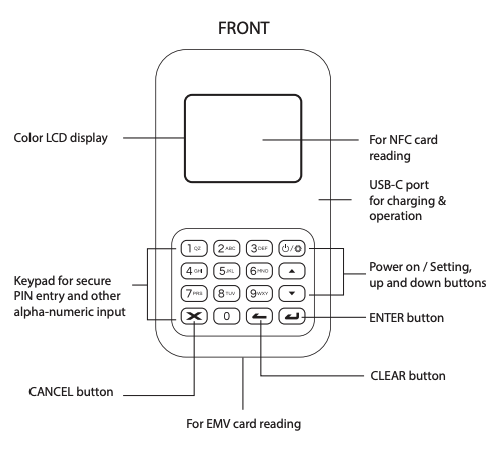 Before setting up the WisePad 3
Your WisePad 3 terminal does not come pre-charged. To begin charging the battery, plug the USB-C charging cable into the USB-C charging port on the right-hand side of the terminal. If this is your first time charging the device, be sure to charge it for at least 3 hours. You can continue with the setup while it charges.
Pairing the Mobile Tap with your iPad
Before turning on the terminal or opening your Retail POS app, you'll need to ensure Bluetooth is enabled on the iPad and that the Retail POS app has been granted access to Bluetooth and location services. To do so:
On the iPad, open Settings.
Tap Bluetooth.
Toggle Bluetooth on, but do not pair the device.
On the main Settings sidebar on the left, scroll down to the list of apps.
Tap Retail POS.
Under Allow Retail POS to access:

set Location to while using.
toggle Bluetooth on.

You can now launch the Retail POS app and power on the WisePad 3 using the power button on the upper right-hand side of the number pad. Once powered on, the WisePad 3 will wait for a Bluetooth connection to be established.
In the Lightspeed Retail POS app:
Tap Payment Terminal.

Tap Add a payment terminal.

Select the WisePad 3 from the list of available payment terminals.
Enter a name for the terminal. This can be whatever you like, but should make it clear which terminal it is referring to.
Tap Add. Retail POS will search for available readers.
Retail POS will display a list of any

WisePad 3

in range. Select the desired

WisePad 3

's serial number by tapping Tap to connect.
Once the terminal is paired, Retail POS will display its name, status, and serial number. Tap Save.
You should now see the name you gave the terminal with a blue check mark next to it, indicating that it is the active terminal, along with a green online status indication. Tap Done.
You will then be returned to your profile screen, where you should see the name you've given your terminal as the active payment terminal along with a green Connected status indication.

You are now ready to accept payments with the WisePad 3.