We want to be better at staying in touch with you—starting by improving our release notes for:
Lightspeed Retail POS (R-Series) web
Lightspeed Retail POS (R-Series) iOS app
Lightspeed eCom (C-Series)
Lightspeed Payments
Lightspeed Accounting
Lightspeed Analytics
Lightspeed Loyalty
Going forward, visit the Release notes section in the menu on the left to review new features, enhancements, and fixes that can improve your experience with Lightspeed Retail POS and all the other Lightspeed products that you've integrated with.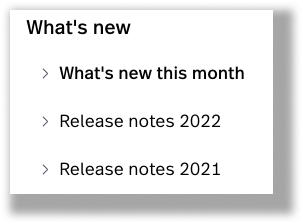 Whenever we have release notes to share, we'll add a new article under the current year.
Want to read past release notes? Please visit the Lightspeed Retail Release Notes page (English only) and Lightspeed eCom Changelogs page (English only) on our Lightspeed website.