Your iPad and stand are packaged in the same box, as your iPad is already inserted into its stand for you. For a more polished look on your checkout counter, your iPad's Lightning to USB cable is also routed through the stand for you.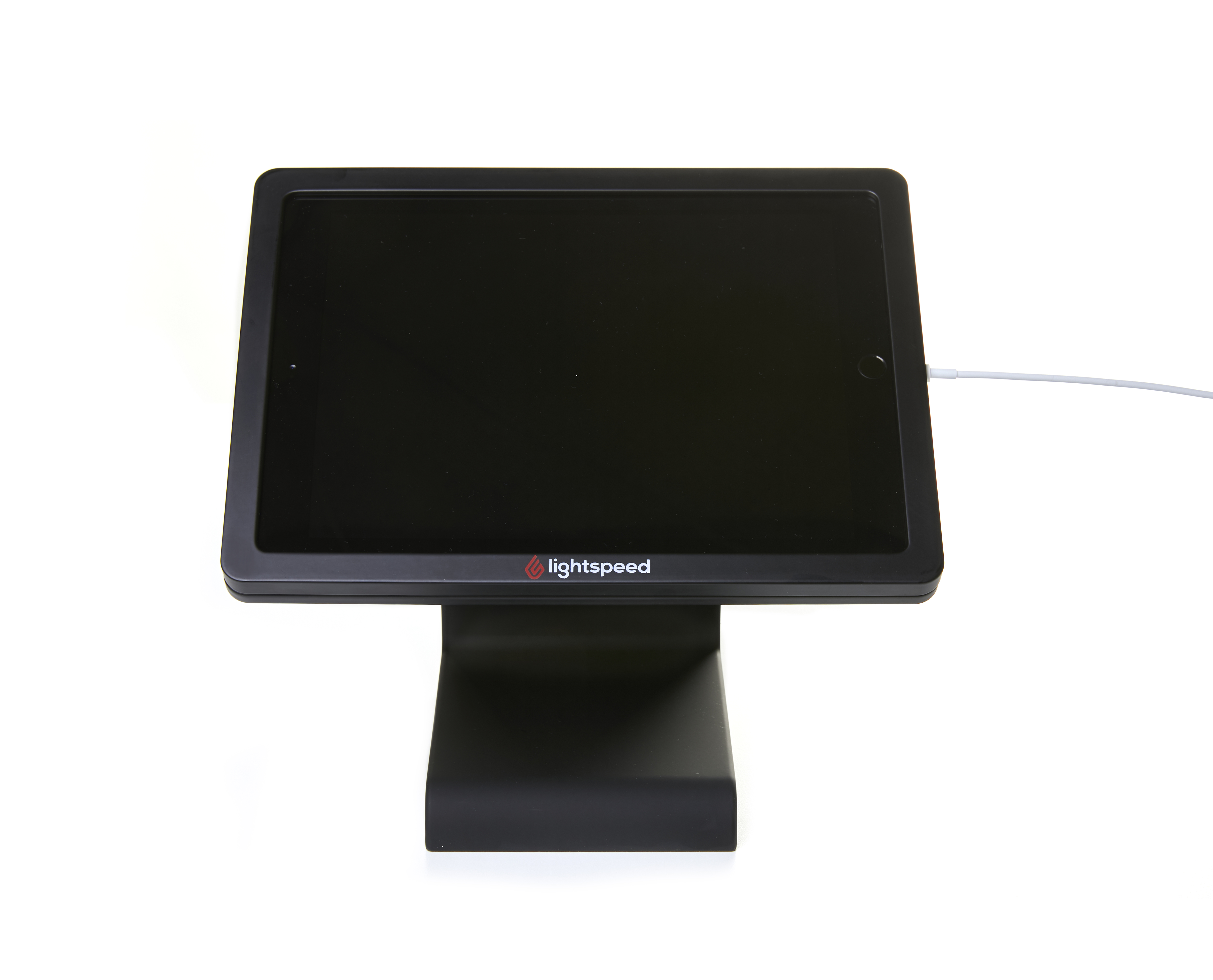 Lastly, your iPad comes pre-configured and with four Lightspeed apps pre-installed. This helps you bypass most of Apple's iPad setup and get started quickly and easily. Here's information on each of the four Lightspeed apps:
Install

Install the Retail POS app and sign in to your account in just a few taps. You'll need to install the Retail POS app and sign in to test if you've set up your iPad bundle correctly.

If you haven't set your password yet, please see Signing in and setting your password.

Getting Started

The Setting up your iPad bundle quickstart guide included in your iPad bundle is meant to give you a basic rundown of how to set up your hardware. Should you need more a more detailed overview with thorough step-by-step instructions and videos, the Getting Started app gives you access to the getting started guide directly from your iPad. From there, you can also explore the rest of the guide and complete your software setup.

Help Center

Your main resource for software setup and any and all questions about Lightspeed Retail POS is the Help Center. You can access it from your iPad at any time with the Help Center app.

Troubleshooting

The Troubleshooting app links you directly to the Troubleshooting section of the getting started guide. There, you'll find information that will help you diagnose and resolve technical problems with your hardware.
Therefore, to set up your iPad and stand, all you need to do is:
1. Turn on your iPad
On your iPad, hold down the Top button until the Apple logo appears onscreen.
Once your iPad has powered up, press the Home button to unlock your iPad.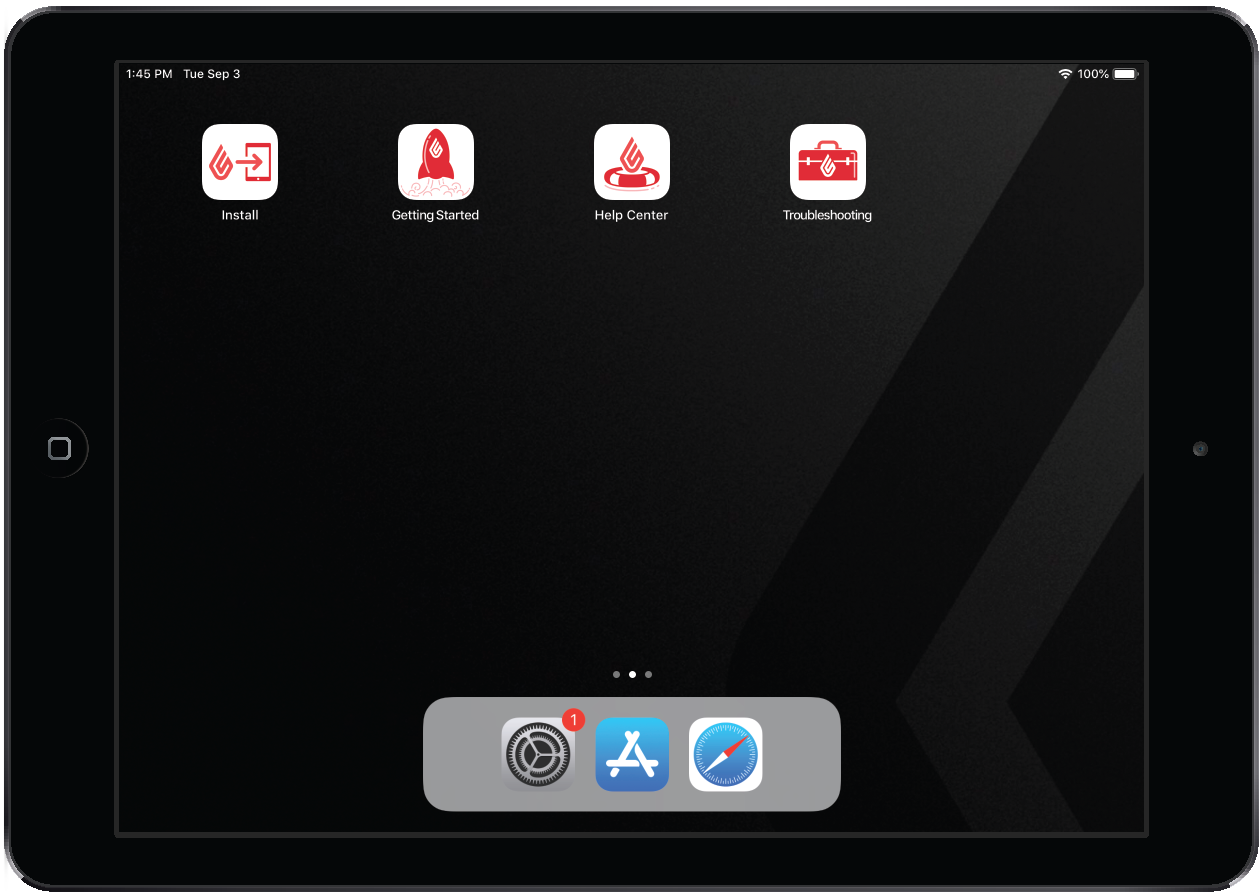 You should now be on Home screen and see the four Lightspeed apps.
2. Join your Wi-Fi network
On your iPad, tap Settings > Wi-Fi.
On the right Wi-Fi panel, select your network from the list.
Enter your password and tap Join.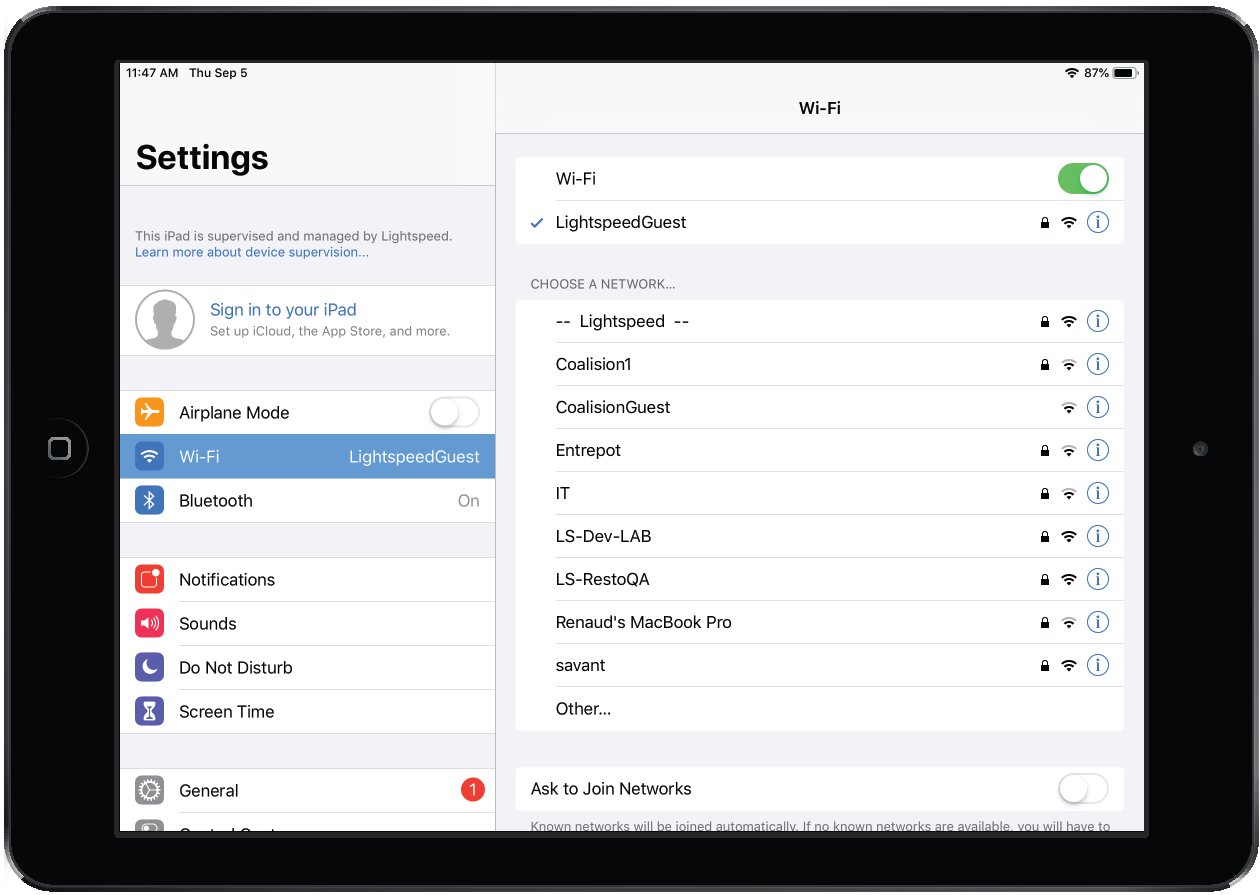 Your Wi-Fi network should now be listed under the Wi-Fi switch and have a checkmark to the left of it.
3. Install the Retail POS app
On your iPad, tap Install.
Tap Continue. This takes you directly to the Lightspeed Retail POS app on the App Store.
Under Lightspeed Retail POS, tap Get.
In the alert, tap Create New Apple ID and follow Apple's onscreen instructions. Alternatively, tap Use Existing Apple ID and sign in.


Note: If you're creating a new Apple ID, select None from the payment type options to avoid having to enter your credit card information. As your employees will be using your iPad, only use an existing Apple ID if it was created for business purposes.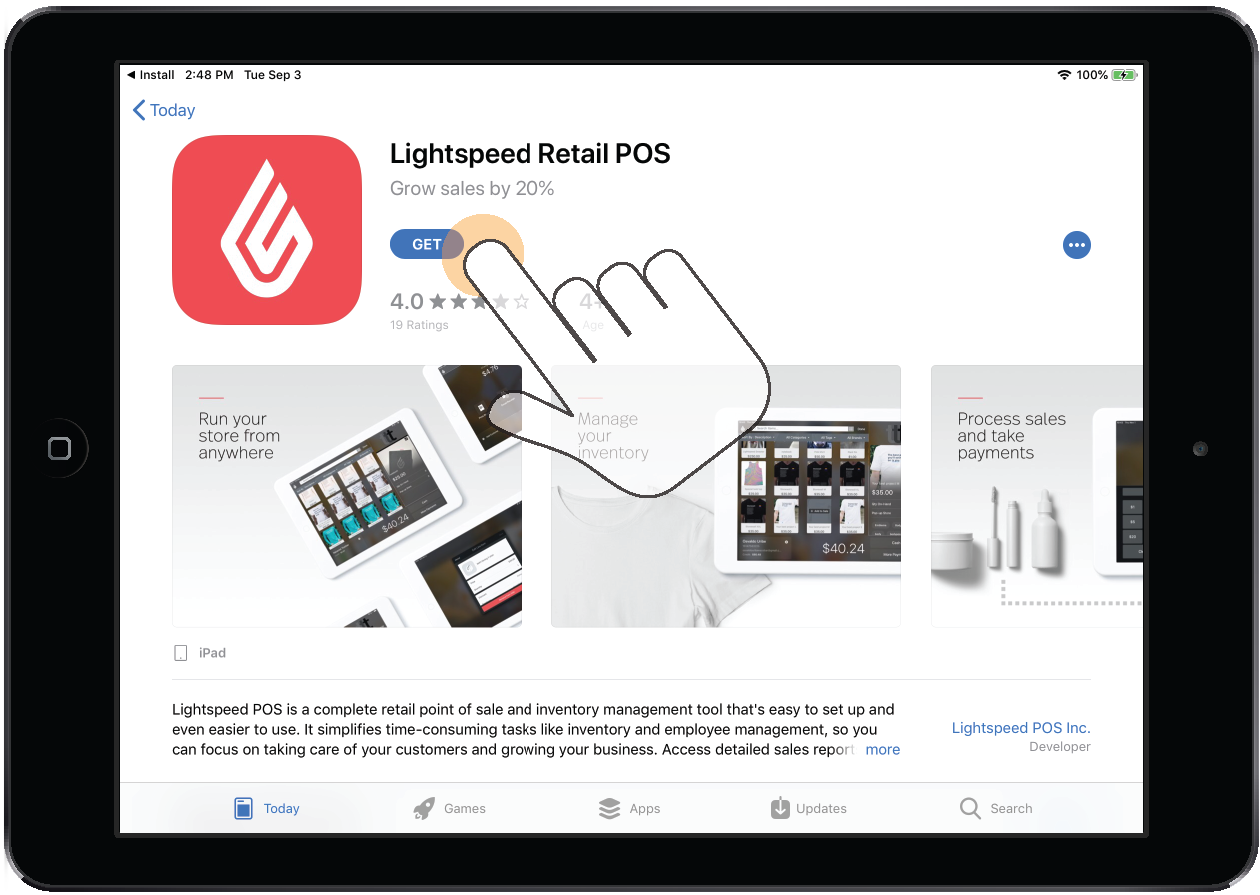 The Retail POS app should now be installed on your iPad.
4. Sign in to the Retail POS app
Open the Retail POS app.
Tap Sign In.
Enter your username and password.
Tap Sign In.

Select a register.
If the register is closed, tap Open register > Done.
You should now be signed in to your account and on the Profile screen. From the Profile screen, you'll be able to see the status of the devices you're setting up next and make a test sale to make sure you've set up your iPad bundle correctly.
What's next?
Go back to Unboxing your RACS iPad bundle and set up the next device in your bundle.