When items are created in Retail and their Publish to eCom checkboxes are selected, they are pushed to eCom with their online visibility set to hidden (meaning hidden to your shoppers).
To adjust (re-adjust) the visibility of your eCom products, you must make the change via your eCom back office.
For information on managing the visibility of eCom products within a matrix, refer to Managing Matrices in eCom.
Using bulk modification to make multiple products visible
Select Products in the main menu to display your eCom product list.

Select the product (or products) you want to change by placing a check mark in the product selection dialog box (located at the left of every product row).

Click the bulk dialog box and select Make Visible or Make Visible when in stock.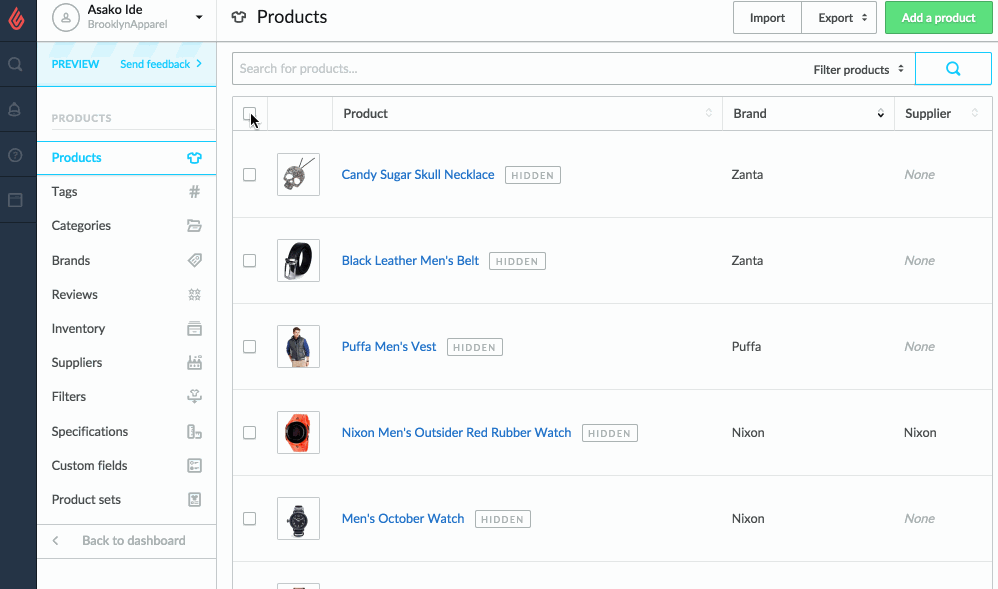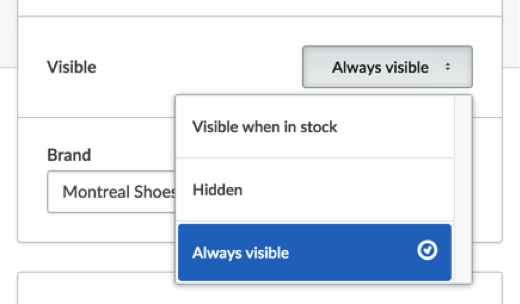 Important considerations
Items marked as archived in Retail before the initial upload to eCom are not uploaded.

After the initial upload, archiving a product in Retail sets its online visibility to hidden.
This is to prevent the item from being sold accidentally.

Archiving an item in Retail sets the product's visibility to hidden in eCom.
Un-archiving an item in Retail does not change its online visibility status. To make a product visible online, you must change the visibility in eCom.
Saving an archived item in Retail sets the product's online visibility to hidden even if you had made it visible in eCom.
Items can only be deleted from eCom via Retail.
Products in eCom can be deleted through specific actions in Retail
Certain product metadata exists only in eCom. This includes HTML product descriptions, search-engine metafields, product weight, dimensions and more. There are scenarios where a change in Retail deletes the product and associated metadata in eCom.
Although you can use the Delete from eCom feature in your Retail account, the following actions will delete products in eCom as well:
Merging items
Removing the last item from a matrix
Product merge
Retail allows two products to be combined through its merge feature. This operation deletes one product (the mergee) and combines its metadata with the remaining product (the merger). History in Retail is rewritten so that it appears as if there was always just one product.
The Omnichannel integration handles product merge by deleting the mergee in eCom. Unlike Retail, product data and history is not combined in eCom.
No sync notifications
After the initial eCom store creation and product upload, you will not be notified each time data is pushed from Retail to eCom. Omnichannel is an "always running" background process that will automatically upload new product data to eCom. There are no notification messages when a particular job is complete.
Considerations for product images
Product images uploaded to Retail are pushed to eCom. You can upload images for products in eCom but they are not pushed back to Retail.

NOTE: You can upload a maximum of 12 images (single product or entire matrix).
Changes to item images in Retail are pushed to their corresponding products in eCom.
Subsequent updates in Retail do not regenerate images that have been deleted in eCom.
Changes to product images in eCom are not pushed to their corresponding items in Retail.