Lightspeed Accounting offers an automated and seamless integration of your Lightspeed Retail data with the below accounting system:
QuickBooks Online
QuickBooks Desktop (2014 or later)
Xero
Exact Online
Sage Cloud Accounting
Alternatively, you can manually export your Lightspeed Retail data and import it into QuickBooks for Mac or Windows provided you are using a compatible version of QuickBooks Desktop:
| | |
| --- | --- |
| Windows | Mac |
| QuickBooks Desktop 2014-2018 | QuickBooks Desktop 2013-2018 |
Due to changes in the file format used in QuickBooks Desktop 2019, a workaround is required to successfully import the iif files Lightspeed exports. Lightspeed Accounting, however, is compatible with QuickBooks Desktop 2019.
NOTE: QuickBooks 2013 and later for Mac require a workaround in order to import correctly. In Lightspeed Retail, go to Reports > QuickBooks Settings & Options and set the "Extra" field under Sales Tax to "N/A" and then save the settings.
To export from Lightspeed Retail
Open your Firefox browser.
In Lightspeed Retail, go to Reports > QuickBooks Settings & Options.
Select the data Lightspeed Retail exports to your accounting software by going to Lightspeed Retail settings for manual exports into QuickBooks (Mac or Windows).
If you have a QuickBooks account, check that the accounts match. This prevents a new account from being created in your QuickBooks when you import your file.
At the top of the screen, click the grey Exports button.
If this is your first time exporting, on the top right, click the green New QuickBooks Export button.
From the Dates section in the Start Export On, End Import On, and Shop fields, select your date range and shop.
Click the Generate All Export Data button.
From the left-hand menu, review the data included in each section.
If data is included in the Errors section, contact support for assistance.
From the Export section, select the Export Verified checkbox.
Click Export QuickBooks Data and save the .iif file to your desktop or downloads folder.
Import your .iif file into your QuickBooks for Mac or Windows.
Importing into QuickBooks Desktop 2019
Due to changes made to the file format used, importing your .iif file into QuickBooks Desktop 2019 will require additional steps.
When you attempt to import the .iif, you will encounter the following pop-up: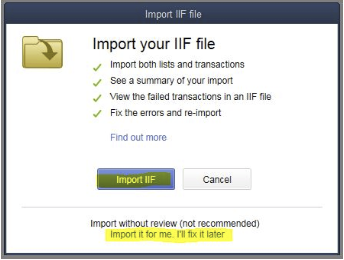 You must select Import it for me. I'll fix it later. Depending on the data contained in the .iif file, you may then get a warning for each General Journal Entry in the file.

Click Yes for each warning displayed. There may be many.
Once all of the General Journal Entries have been approved, QuickBooks Desktop 2019 will import the data.