Automated reorder points help optimize time with inventory management for Lightspeed Analytics users. Based on your own sales metrics like sales volume, your desired trailing sales period, and customizable elements such as your defined vendor lead time through the Dynamic reorder report, automated reordering provides you with suggested reorder points on your inventory items. This is an efficient way to optimize your inventory strategy and maximize your inventory.
Reordering points for your items
In Retail POS, navigate to Inventory and select your item. Listed under Inventory reordering, your recommended reorder points are available to you for this item.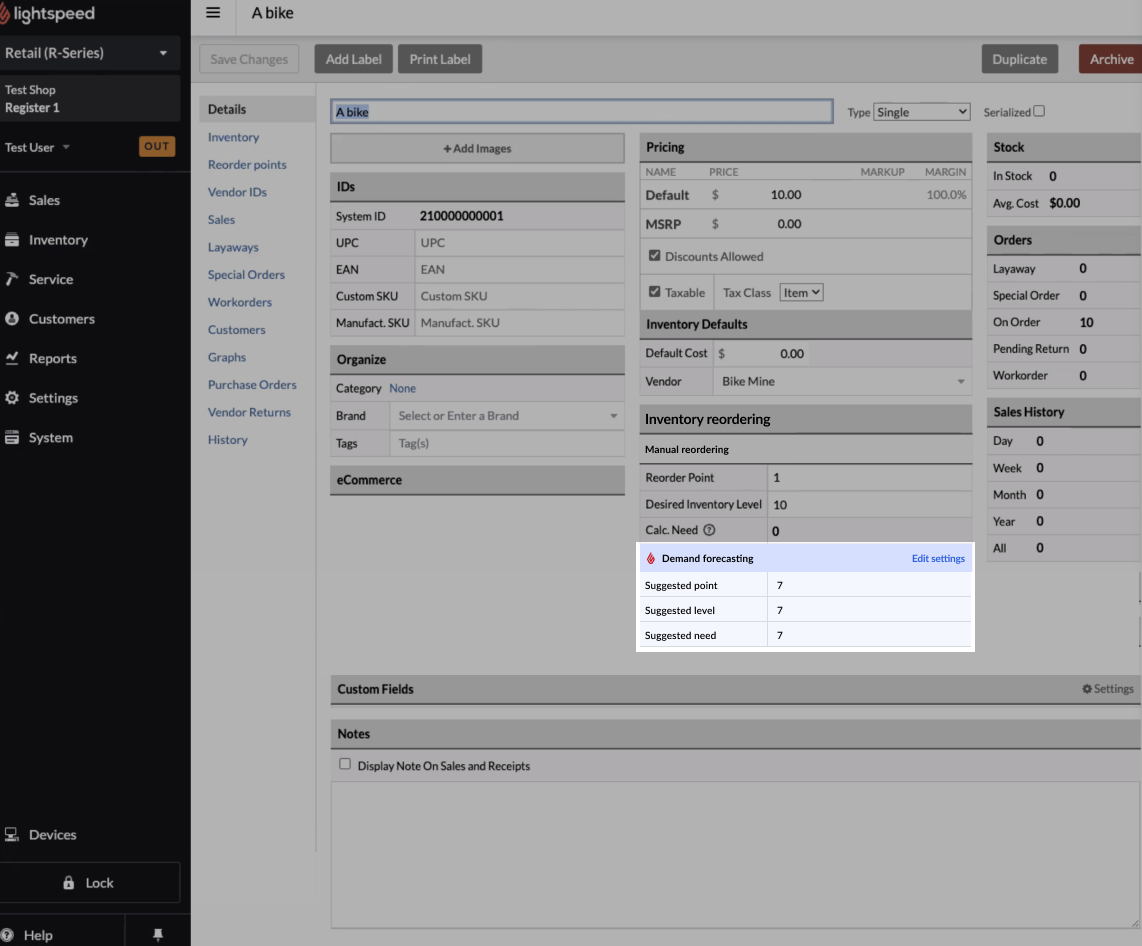 You also have access to reorder points for an item that exists across multiple locations. From your selected item, click Reorder point in the side menu. The Demand Forecasting section shows the recommended quantity to reorder for this item for each of your locations.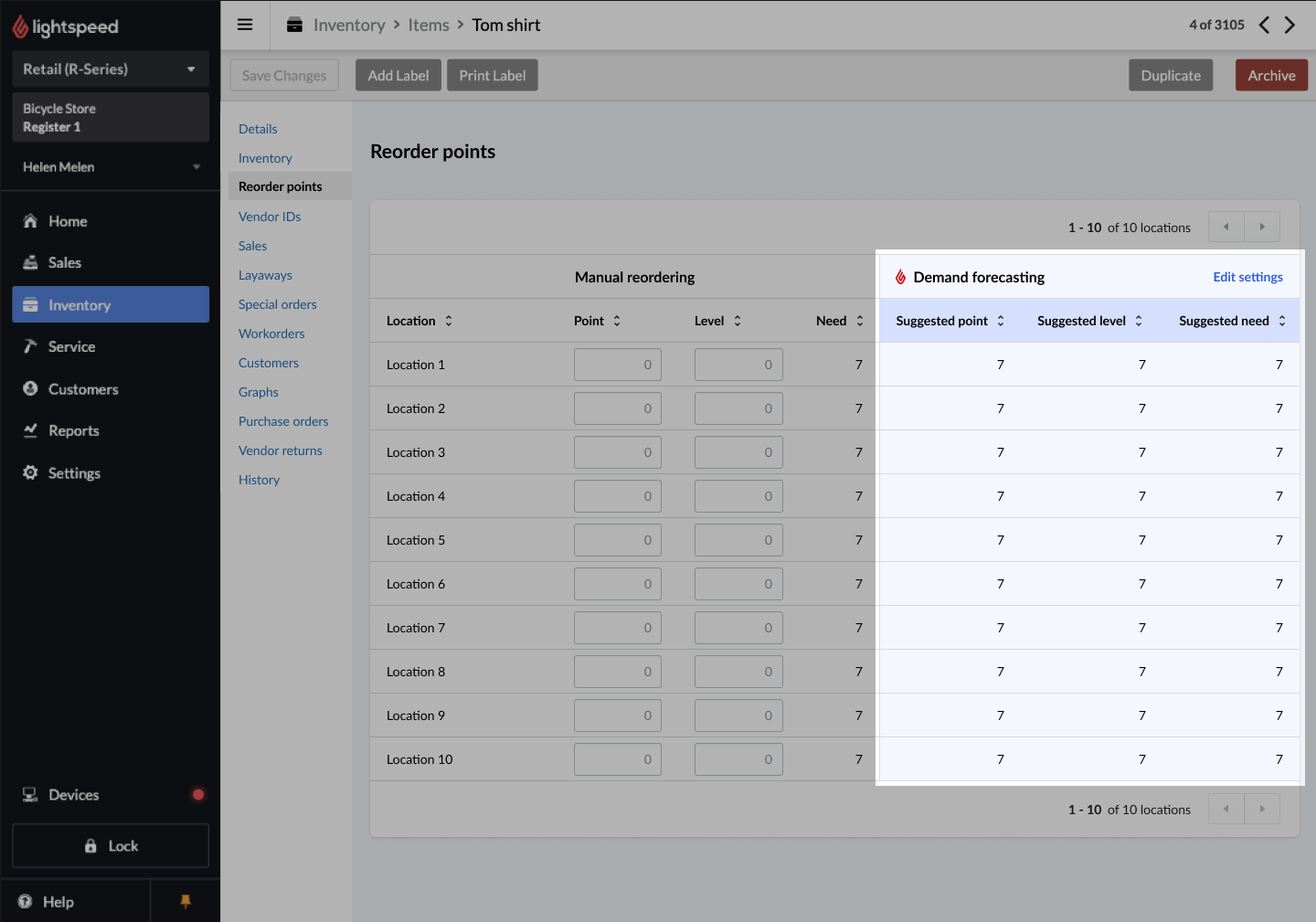 To edit any of your customizable reorder elements, click Edit Settings. On the Dynamic reorder report you can set up your trailing sales days, forecast period, and lead vendor time per category.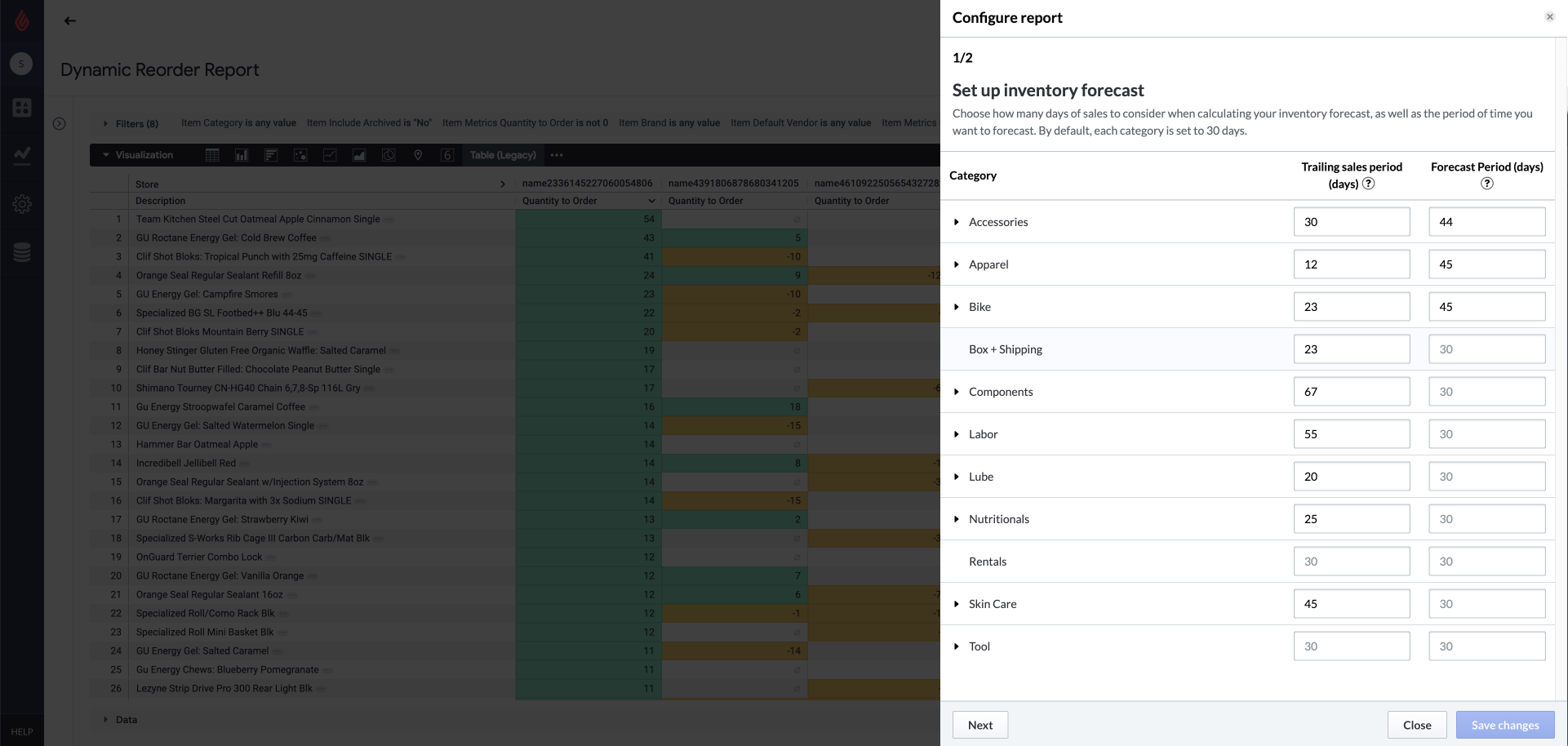 For more inventory forecasting, consult our Dynamic reorder report article.
Reordering points on purchase orders
Based on your sales metrics, demand forecasting gets created. These suggested items and quantities help you build your purchase orders quickly and efficiently.
In Retail POS, navigate to Inventory > New Order. Under the Details section, select your vendor and click Saves Changes. From there, scroll down to the Add items section.
Select how you want to add your items and their quantities:

Add items using demand forecasting

This option allows you to utilize suggested reorder points generated from your demand forecasting. These suggested items and quantities are populated from your sales history patterns and inventory. They are forecasted based on the demand for your items. These numbers correspond to the quantities under the column Suggested need.

Add items using manual reordering

This option will generate a list of items and quantities to order based on the reorder points and levels that you manually entered in Retail POS. These numbers correspond to the quantities under the column Need.

Once you selected your option click Generate PO to add the items with their needed quantities to your purchase order.

Now that your items are added to the purchase order, we recommend reviewing and filling up your Vendor IDs if not populated on your items as well as the item costs for a complete purchase order.

If you start building your purchase order using the manual reordering option and want to change to the demand forecasted numbers, click Use suggested quantities. The Quantity to order column will update and match the Suggested Need quantities.
Once satisfied with the quantity to order for your items, click the Ordered button located at the top of the page to send your purchase order to your vendor.
For more information on what to do when you receive your purchase order, click here.
What's next?
About Lightspeed Analytics
Here is all you need to know about Lightspeed Analytics.
Learn more
Understanding the benefits of Lightspeed Analytics
Learn more about the benefits of Lightspeed Analytics
Learn more