There are various ways to search for customers in Retail POS.
Customers section
Navigate to Customers > Customers and enter the search terms in any or all of the provided fields: Customer, Tag(s), and Exclude Tag(s). Select Advanced to filter further your search, including the Default search field for additional search criteria such as address, email and more, Customer Created calendar, Type, Discount, and Sales Tax filters. You can also select or deselect the checkboxes to Show type, Show company, and Archived customers.
A number of other pages also offer the ability to filter the results set by the customer, such as Credit accounts, Gift cards, Search notes, and Quotes. The Customer/Search Customers fields work similarly across the site.
Sales section
Navigate to Sales and choose either New sale or Continue sale, and enter your search criteria in the Search customers field to attach the selected customer to the sale. You can also click on Advanced for additional search criteria.
Settings section
Navigate to Settings > Archive customers to search for any customers you wish to archive.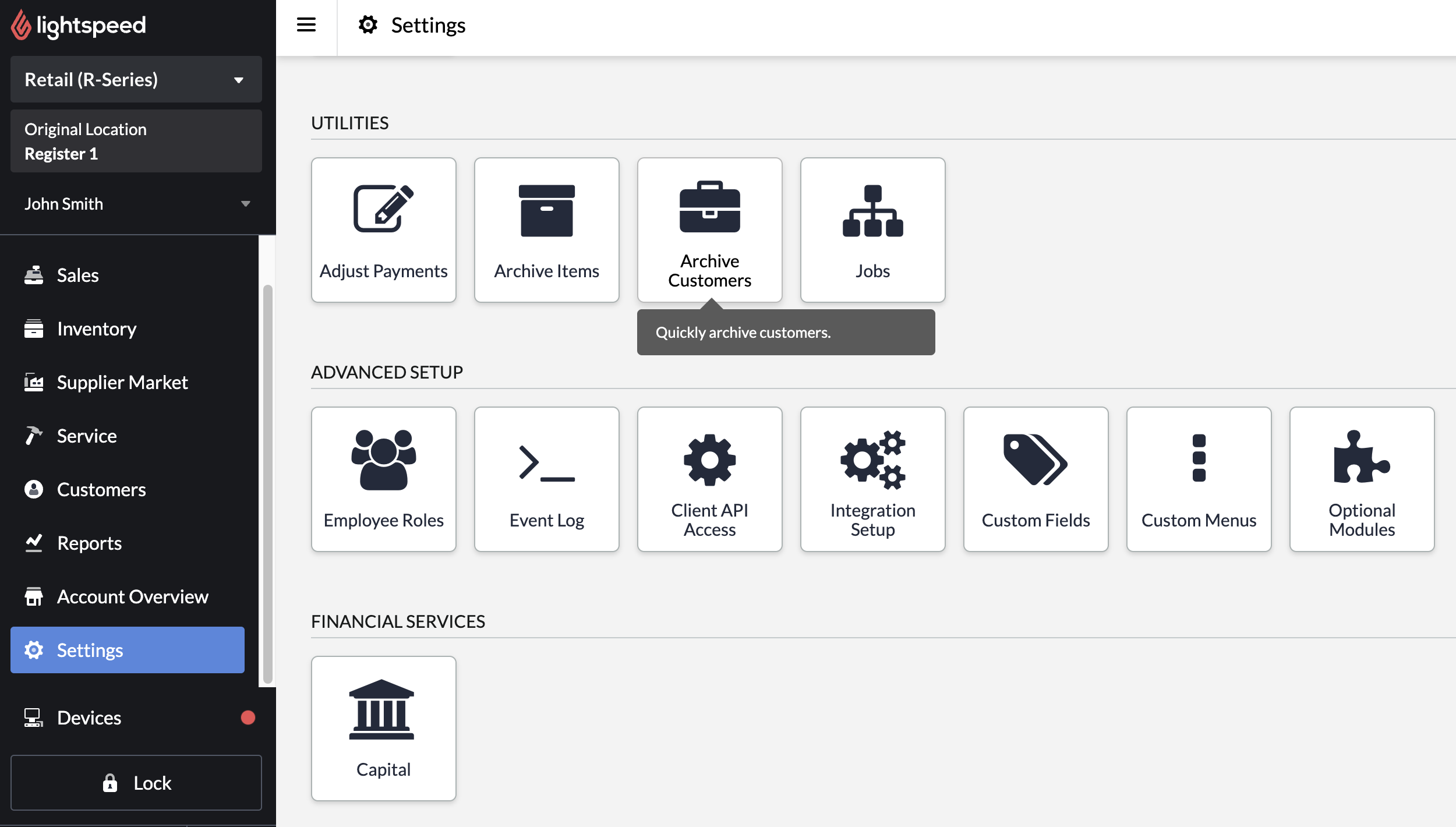 Inventory section
In the Inventory section of Retail POS, select one of the five options where customer search exists:
Serial numbers: on this screen, select the Advanced drop-down to enter customer information to filter serial numbers assigned to that customer.
Shipping: on this screen, enter customer information to locate shipments by customer.
Special orders: on this screen, enter customer information to locate special order shipments by customer.
Transfers (multi-store only): navigate to Inventory > Transfers > Transfer ID > Special orders to search by customer for transferring inventory.

Reports section
The Reports section of Retail POS uses customer search in many of its subsections:
Sales & Refunds: In the Totals and Voids reports, select the Advanced menu to search for a customer.
Other Transactions: The All transactions and Deposits/withdrawals reports contain customer search fields by selecting the Advanced drop-down.
Layaways, Special Orders, and Workorders: the Customers report contains search fields to search via customer name, tag (or exclude a specific tag), type, and location.
Grouped Sales Totals: These reports include the customer search function, by selecting the Advanced drop-down:

Customer
Customer & Item
Sales by Day
Sales by Hour
Location