Once you've defined your employee roles, add employees under Settings > Employee Setup. We recommend giving each of your employees their own employee account.
The number of employees that you can add to your Retail account depends on your Lightspeed Retail POS plan. Under Settings > Employee Setup, you can see the employee limit of your plan (Maximum) and how many employees you can add (Available) if you select an employee and select Sign In in the submenu.
If you've reached your employee limit and the + New Employee button no longer displays under Settings > Employee Setup, we recommend archiving an employee you don't plan on using often.
Note
: If you need to keep all your current employees active, email your request to increase your employee limit to your Sales Account Manager directly or to the Sales department at
sales@lightspeedhq.com
. Alternatively, you can
contact Support
as they can coordinate a phone transfer or a callback request.
To add employees:
From the main menu, select Settings > Employee Setup > + New Employee.

Enter the employee's first name and last name.

Assign them to an employee role.

Note

: If you've assigned a custom employee role to some of your employees, select

Rights

in the submenu to enable a customized set of

permissions

. As custom employee

roles are not listed under

Settings

>

Employee Roles

, you would need to edit the permissions from the employee's

Rights

submenu in the future.

If you have a multi-location account, you can limit the employee's access to a specific shop by selecting it from the Limit To Shop list.

Note

: If you're participating in the public beta for multi-location employee restrictions, you can select

Edit

to only give them access to specific locations. Alternatively, enable the

Allow access to all

switch to give them access to all locations. For more information, please see

Configuring employee settings for multi-location accounts (beta)

.

In the Phones section, enter the employee's phone numbers:

Home
Work
Mobile
Pager
Fax

In the Address section, enter the employee's mailing address:

Country
Address
Address 2 (e.g. 3rd Floor)
City
Province/State/Region
Postal Code/Zip Code

In the Other section, enter the following details:

Website
Email 1 (used if the Email contact method is selected)
2 (employee's secondary email address)
Custom (e.g. employee number 13)

In the Contact section, select the employee's preferred contact method (Email, Mail or Call) for software updates and important messages from Lightspeed Retail POS. Your employee's explicit consent is required to contact them through these methods.

Select Save Changes.

Repeat the above steps until you've added all your employees.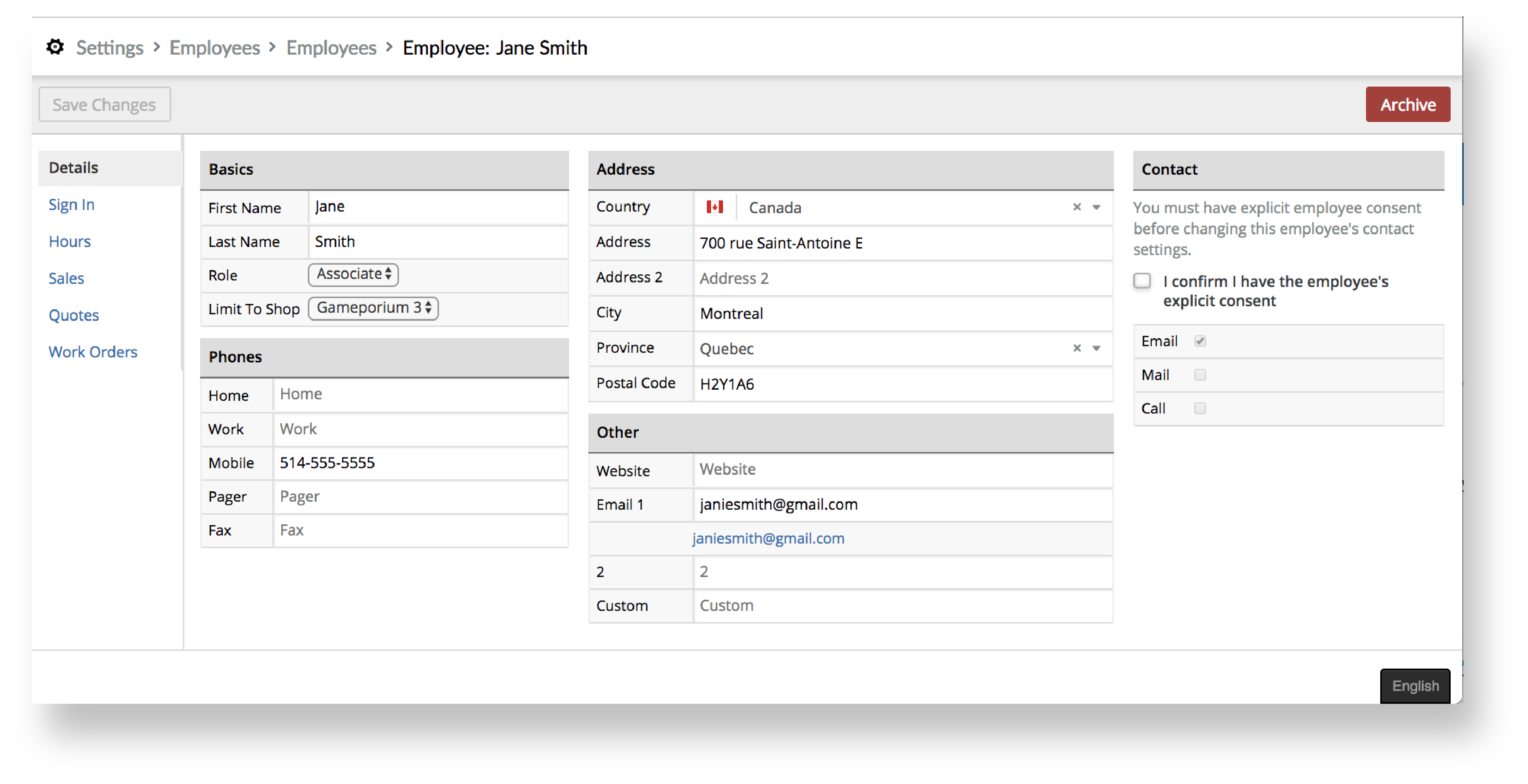 What's next?