You should always keep your Retail POS device running the latest version in order to fully benefit from all the continuous improvements.
Before updating Retail POS, you should first confirm that your iOS device is up to date. You may also choose to enable Automatic Downloads for your device (requires iOS 9 or later) in order to automatically receive all future updates.
Updating the iOS version
NOTE: Retail POS versions 2.10 to 2.13.1 require a minimum of iOS 9.3 and versions 2.14 or later require a minimum of iOS 10.3.
Connect your device to the Internet and a power source.

Tap

Settings

>

General

>

Software Update

.

Tap

Download and Install

.

If prompted, enter your passcode.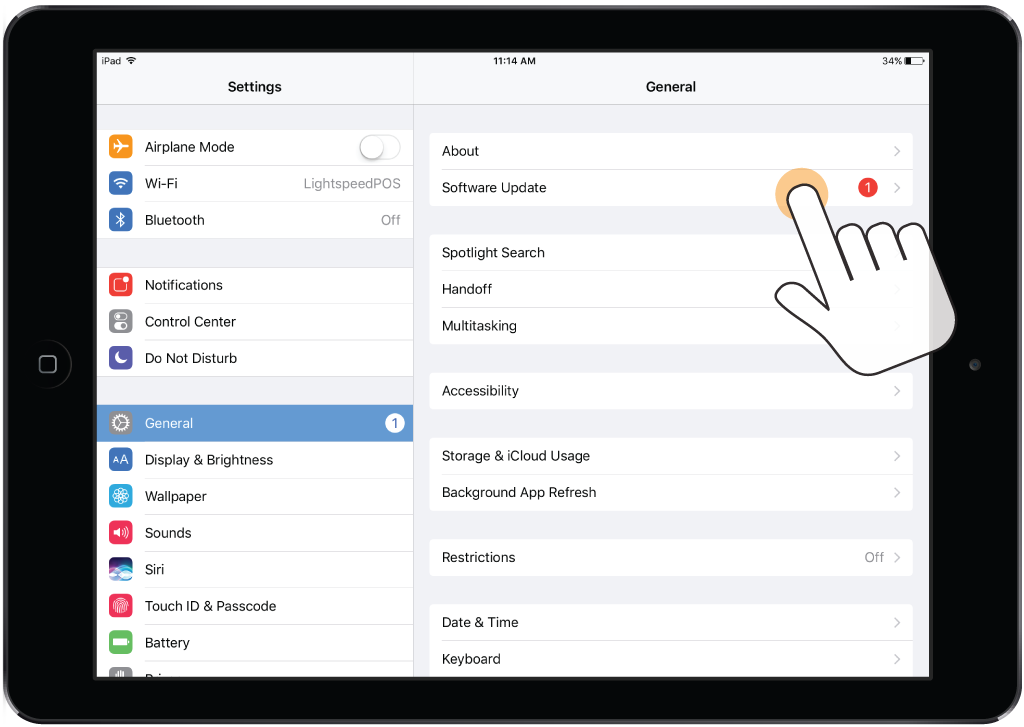 NOTE: If you see an error message throughout this update process, see Apple Support for more information.
Updating Retail POS
Once your device has been updated to the latest iOS version, you should update the Retail POS app.
On your iOS device, open the App Store. 

Tap

Updates

.

Find the Lightspeed Restaurant app under Available Updates, then tap

UPDATE.
If prompted, enter your Apple ID Password.
Enabling Automatic Downloads
With Automatic Downloads for updates enabled, all new versions of apps that you currently have on your device will automatically download as they become available. This eliminates the need for manually updating the app in the future.
Tap

Settings

>

iTunes & App Store

.

Under Automatic Downloads, enable Updates

.